Just over two hours away from Kafka headquarters in nearby Hartford, Wisconsin, sits a beautiful, picturesque golf course. With a landscape created by glacier movement thousands of years ago, Erin Hills is a golf venue that can't be rivaled by many. The 652-acre course still maintains some of the streams that were carved by the last glacier to cover Wisconsin, and it offers visitors exquisite vistas composed of rolling hills and swaying grasses. 
Erin Hills is so breathtaking that it was chosen to play host to the 2017 U.S. Open. The tournament brought together 156 players from all over the world—both a massive honor and a massive undertaking. With so many skilled professionals coming to the course to play along its stunning route, Erin Hills decided to replace their existing walk paths with highly-durable paths that could withstand the harsh Wisconsin winters and the course's hilly terrain.

Kafka Granite was called in to replace Erin Hills's highly erosive existing pathway system and replace it with a custom-blended aggregate color of both stabilized and wax polymers pathways. With a long history of working with various aggregate binders for these purposes, we at Kafka Granite felt confident that we could deliver a pathway system that would complement the natural beauty of Erin Hills and reduce maintenance needs for their grounds crew. Here's how we did it.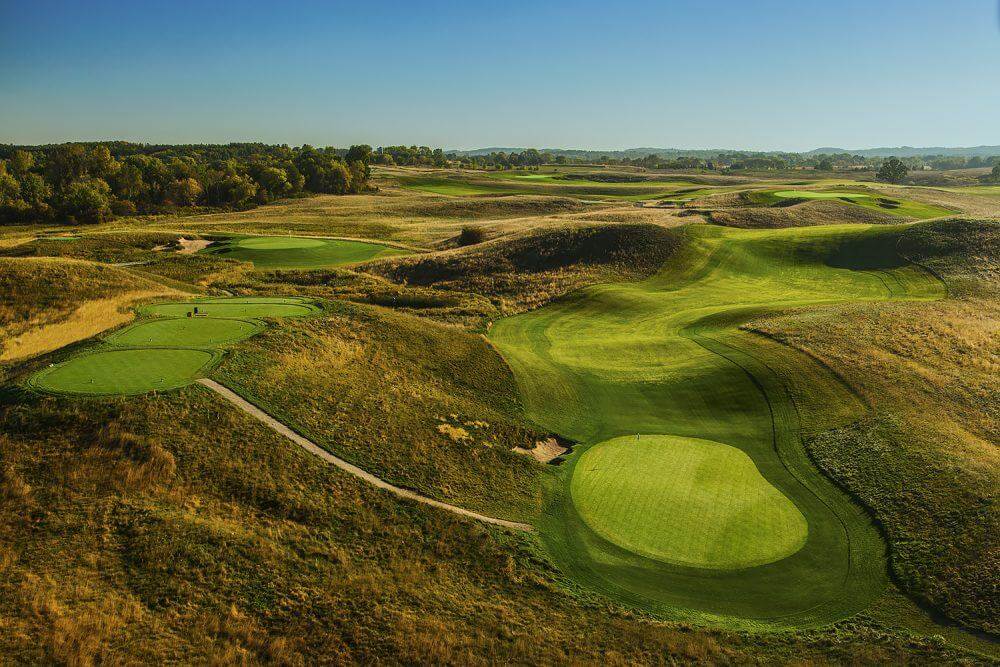 The Project: Developing and Implementing Golf Course Pathway Solutions
WHEN: Fall of 2012 to Spring of 2017
WHERE: Erin Hills Golf Course, 652 acres of property in Hartford, Wisconsin. 
WHY: Erin Hills desired natural-looking cart and walking paths that blended in with the course, but there were issues with erosion due to the hilly terrain. Their grounds crew was spending far too much time maintaining their walking paths when their efforts could have been better spent maintaining the actual course.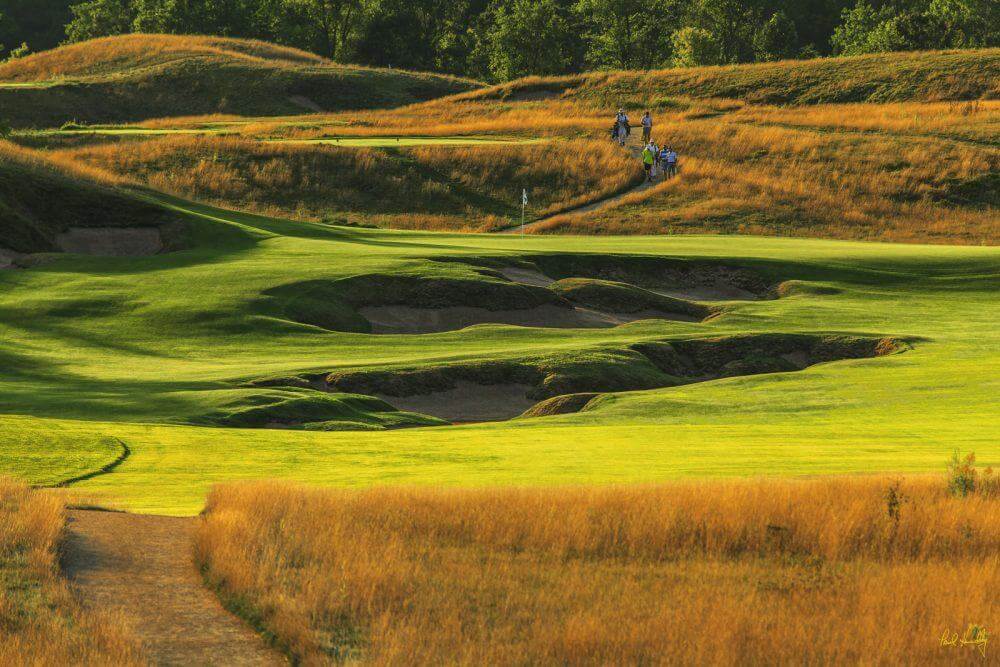 Refusing to settle for obtrusive hardscapes such as asphalt or concrete, Erin Hills opted for a natural aggregate path blended with wax polymer, thanks to Kafka Granite. On flatter terrain, they chose to combine their aggregate with a stabilizing binder. With the first ever U.S. Open to be held in Wisconsin on the horizon, pressure was on to update all of the walking paths with Kafka Granite materials before the June 2017 event. 
WHO: Time was of the essence, which made the use of our pathway materials even more of a no-brainer. Our products are designed to be simple to install and easy to maintain. For this project, the Erin Hills ground crew was able to install their new pathway system themselves, without needing to hire a contractor.
WHAT: Erin Hills decided to use both stabilized and wax polymer pathways. Our Stabilized Pathway Mix consists of decomposed granite or crushed stone screenings blended with a stabilizing binder. This mixture binds and locks the pathway mix to create a durable, permeable natural aggregate surface. These stabilized decomposed granite surfaces are crafted to better withstand forces that would otherwise lead to erosion, which was the issue with the previous pathway mix that Erin Hills had been using.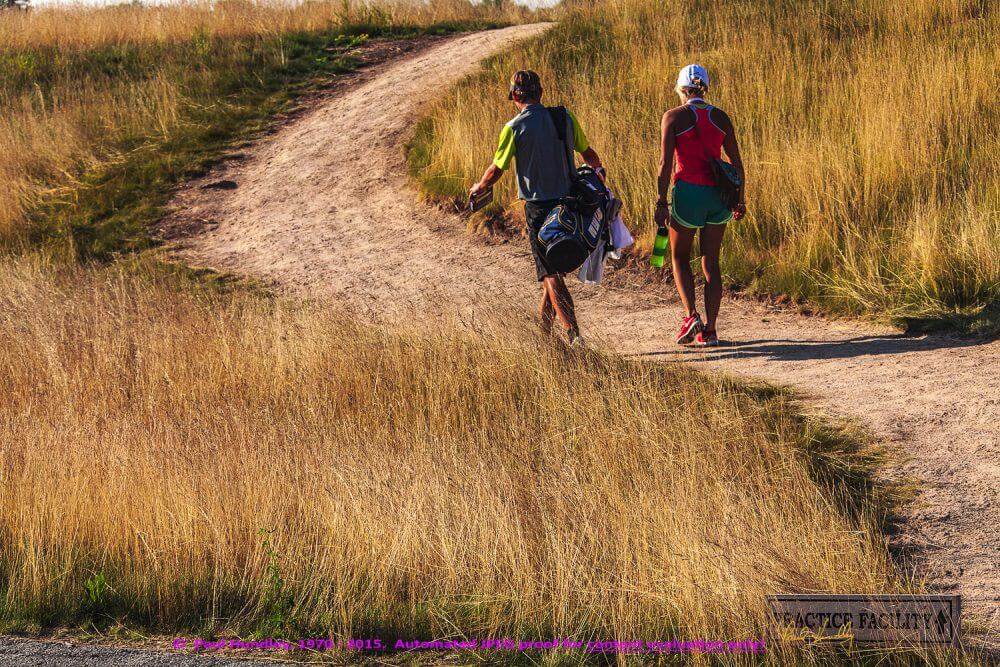 Our Wax Polymer Pathway Mix combines natural crushed stone screenings or decomposed granite carefully pre-blended with an engineered polymeric wax in an entirely waterless process to create a unique paving alternative. This wax-coated aggregate mix creates a dustless, sealed, non-permeable, but yet natural-looking surface that's perfect for use on a golf course, as it can stand up to both extensive wear and tear and the hilliest of terrain. 
Erin Hills was looking for a natural solution that would blend in perfectly with their gorgeous scenery. At Kafka Granite, we offer over 50 different colors of pathway solutions, so it was no problem to find the perfect color match that Erin Hills had envisioned.

HOW: One hurdle that we had to overcome while working on the Erin Hills project was finding the correct binder for the pathway mixes. We recommend binders based on local climate, pathway slope and individual aggregate type. With a property as large as Erin Hills, our dedicated team members worked hard to develop the ideal mix needed. During this process, our team was actually able to devise and implement a brand new wax polymer binder that was cleaner and performed better than the planned original binder.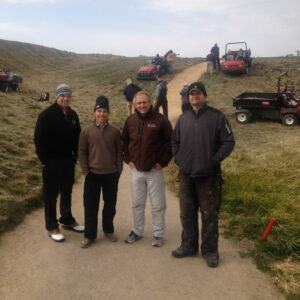 The wax polymer pathway mixes present much less of a challenge, as our wax polymer pathway is pre-blended for easy installation and maintenance. In fact, no water is needed for the installation of this product, and compaction is optional. Crews chose not to compact the new pathways with roller. Since Erin Hills desired a more natural-looking pathway system, it was decided to let foot traffic compact the new pathways naturally. 
Wax polymer pathways were a great alternative for the Erin Hills project because these pathways don't get muddy or dusty like more traditional walkway options. This helped keep all golfers and observers dry and clean during the 2017 U.S. Open and makes the pathways ideal for local golfers all season long.

Additionally, the Erin Hills grounds crew will no longer be spending large amounts of time maintaining the pathways and will now be able to focus on the course itself. Our wax polymer pathways are easy to maintain and can be efficiently manipulated if subtle changes are needed. These new pathways have no problem standing up to the harsh freeze/thaw cycles that the course is subjected to in Wisconsin due to their non-permeable composition.
The stabilized pathways used at Erin Hills were chosen for their affordability, permeability, and design. With over 50 different color variations, Kafka Granite was able to match the aggregate blend already used for the wax polymer pathways that allowed for a seamless transition into the stabilized pathways. The stabilized pathways were used in flatter areas of the course, as the use of Stabilized Pathway Mix is not recommended on slopes over 10%. Kafka Granite's stabilized pathways are made to withstand heavy foot traffic and reduce mud, dust, and erosion, all while still remaining permeable. Following installation recommendations, Erin Hills installed 3 inches of prehydrated stabilized pathway mixture over a DOT-approved base course for proper stability and drainage.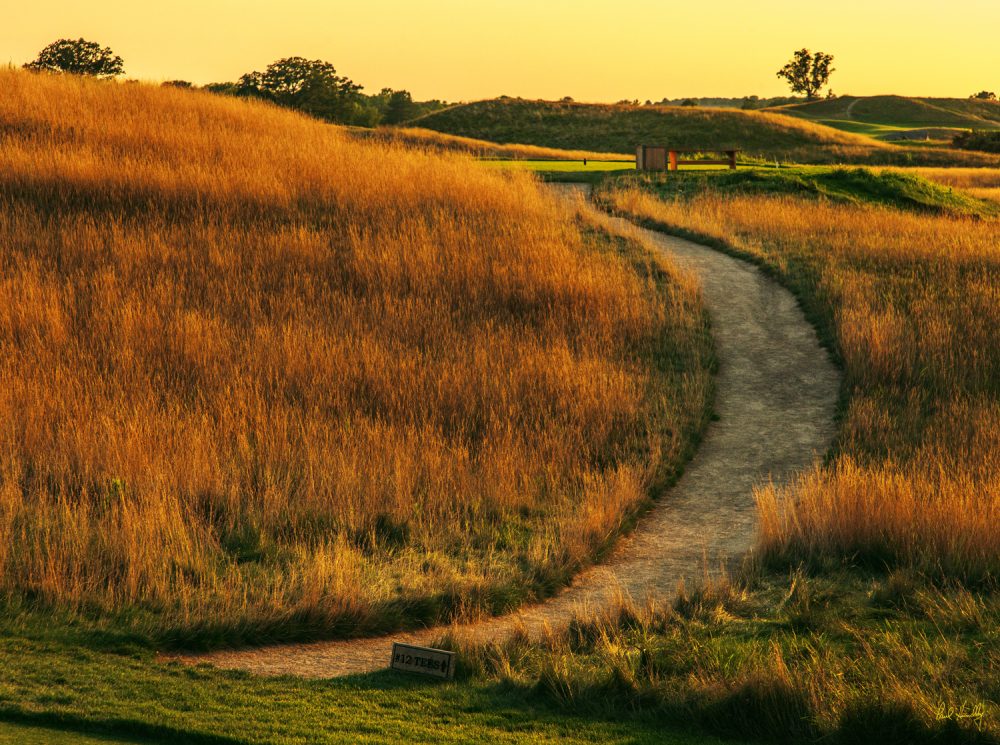 Instead of going with a high-maintenance, easily eroded option, Kafka Granite helped Erin Hills find the perfect pathway mixture for
Kafka Granite's stabilized pathways are a slightly more affordable option than wax polymer pathways, which helped Erin Hills conserve costs. Because of its affordability and versatility, our unique Stabilized Pathway Mix was used wherever the more durable wax polymer mix was unneeded. Through a combination of both wax polymer and stabilized pathways, a truly remarkable pathway system was created. 
The Follow-Up: Erin Hills' Golf Course Pathways Today
Instead of going with a high-maintenance option that would be easily eroded over time, Kafka Granite helped Erin Hills find the perfect pathway mixture for their one-of-a-kind golf course. Thanks to the hard work performed by our team in conjunction with the groundskeepers from the Erin Hills golf course, these new walkways have been enjoyed by all for years—and they continue to perform. 
Zachary Reineking, Director of Course Maintenance for Erin Hills, had this to say about their new pathways at the end of this project: "Over the years, Erin Hills has tried an array of products for our undulating walk paths. The wax polymer and stabilized crushed granite from Kafka Granite provides a superior combination of ease of installation, durability, limited maintenance, and great aesthetics."
The golf course pathway solutions implemented at Erin Hills have held up beautifully over the years. The course sees approximately 18,000 rounds of golf each season. Factor in caddies, maintenance staff and other individuals, and Erin Hill's pathways endure foot traffic from about 30,000 people each year. On average, the course has seen pathway sections last for five to six years before requiring maintenance or a refresh. Ultimately, the application of this unique pathway system has made maintaining the course all the easier for Erin Hills.
Transform Your Golf Course with Kafka Granite
At Kafka Granite, we're proud to be a true partner to our customers. With over 60 colors of specialty crushed aggregates for manufacturing, architecture and landscaping available, we can create unique products that will perfectly reflect your design vision. Whether you're in need of customized pathway solutions or erosion-resistant bunker sand, our knowledgeable sales representatives are eager to help you find the ideal solution for your next project. Contact us today to learn more.