Family Owned & Operated for More Than 40 Years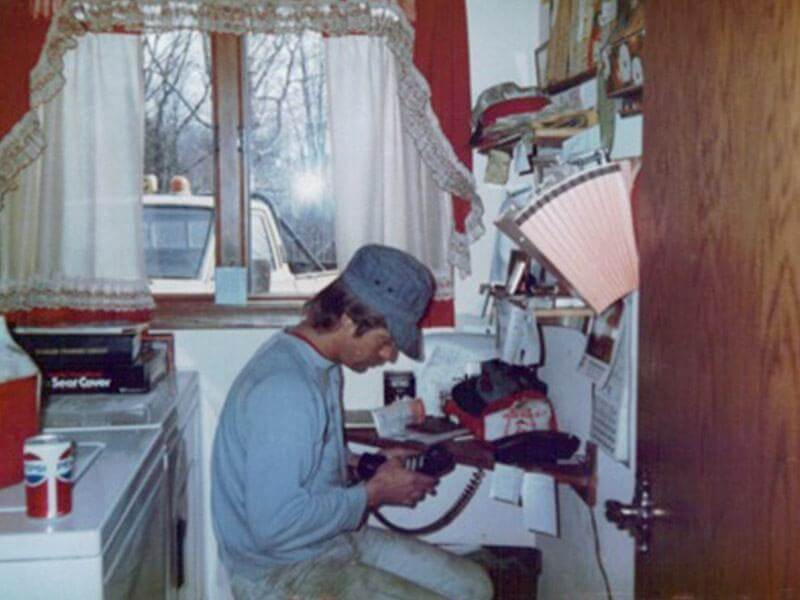 The Very Beginning
In 1979, at the age of 21, Glenn Kafka of Stratford, WI, owner of Kafka Granite, LLC, purchased a backhoe at a local auction for $8,500. He provided a service laying drain tile for local farms with the intention of making their land more productive for growing crops. He also provided small backhoe jobs for the local area as needed. With his first office located out of his mother's very small laundry room, Glenn was able to find work and process his invoices.
While visiting with a neighbor around a campfire in 1981, Glenn was offered an opportunity to purchase a forty-acre granite pit. As a relatively new businessman, a hard worker, and successful thus far, Glenn thought, "Why not?" Purchasing the pit would be a great resource and could potentially lead to future work. He had no idea where to begin, but immediately began to research utilizing his common sense and communication skills.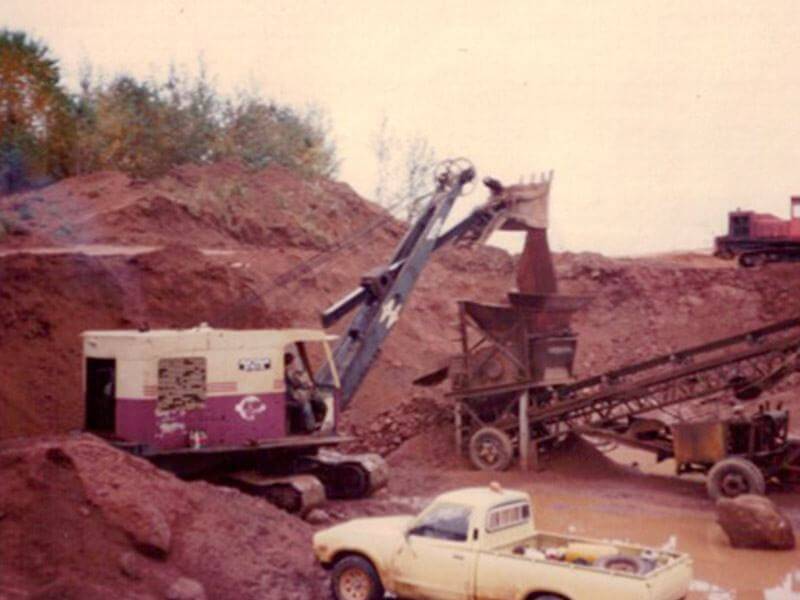 The First Expansion
Glenn soon found support amongst various local contractors who held interest in purchasing road materials. These truckers, who were aware of Glenn's fortitude and hard work, were instrumental in his instant success. Soon after, Glenn acquired a second granite pit that was located across the road.
At the peak of providing decomposed granite road material, Glenn would load over two hundred trucks per day, servicing the counties of Marathon, Wood, Clark and Taylor. As much as half of the material sold was bid work, while the other sales were for private parties.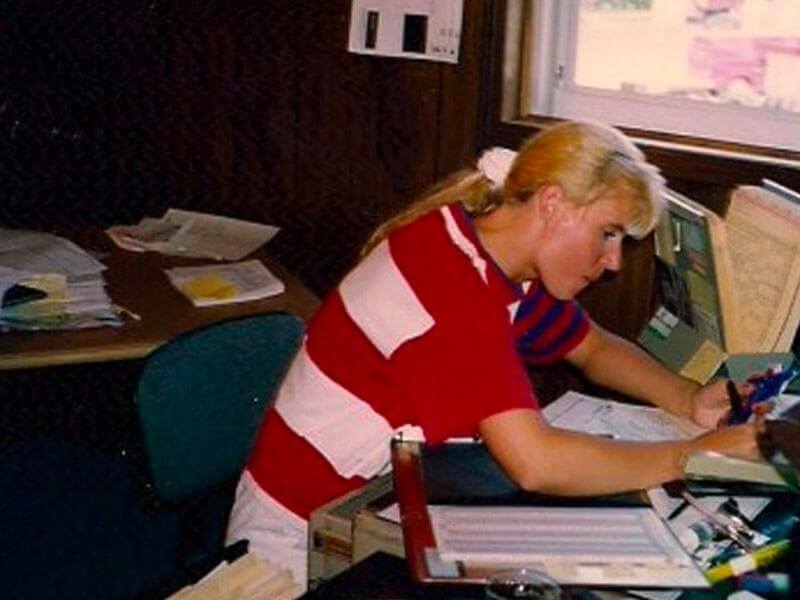 The Right Hand (Wo)man
Early on, Beverly Kafka, Glenn's wife of over 30 years, became an integral part of the quarry business. After completing a business degree at UW-Stevens Point, she spent her early-married years in the granite pit tracking and loading trucks as Glenn continued to bid road jobs, search for raw materials, and research product innovation. She would often leave for work with blonde hair, and return home with dirty brown hair.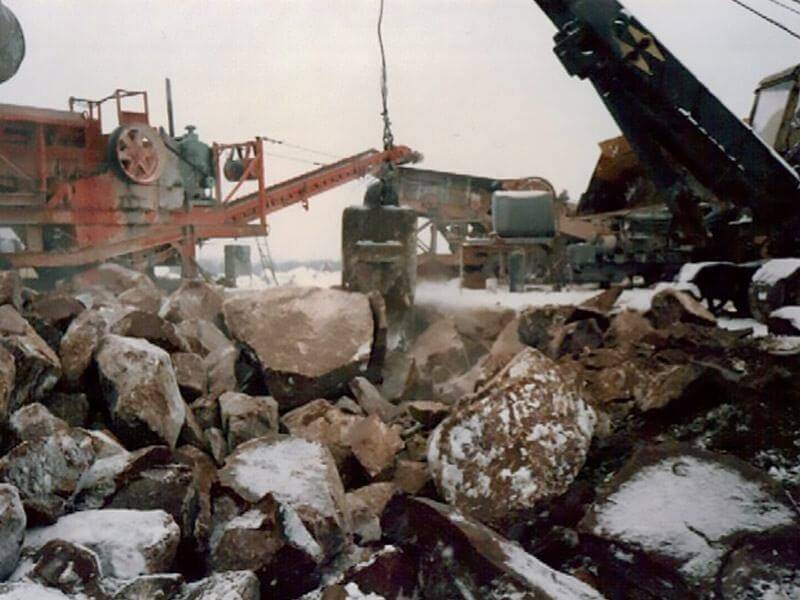 A Groundbreaking Discovery
Glenn faced many great challenges to obtain the road material, one of which was to relocate or blast large boulders called corestones out of the way to secure the prime decomposed granite. One day, Glenn encountered a monster rock the size of a school bus. He worked on the "school bus" sized rock for countless hours attempting to maneuver around it. As a last resort, he decided to hand-drill and blast the stone with dynamite repeatedly to reach the "mother lode" on the other side. Once Glenn successfully blasted the rock, he discovered that it was in fact incredibly brilliant granite that sparkled in the sunlight. He was shocked by the glistening rock, and after facing one of his most frustrating challenges yet, it literally became a groundbreaking opportunity. Inspired by this incredible discovery, he decided to crush the rock, which began a new era that forever changed Kafka Granite. Glenn named the new rock "Dynamite Orange", which continues to be sold today.
In the mid-1980s, with Kafka Granite's road material market well established, a small local bank approached Glenn with the opportunity to purchase a small crushing plant. The plant was located on the leased property of the Anderson Johnson quarry in the Township of Maine. With a strong source of red granite and his newfound Dynamite Orange granite, he thought long and hard before deciding this opportunity would be a sure fit for the expansion of his business. Kafka Granite's crushing operations were established and continued in this quarry for many years.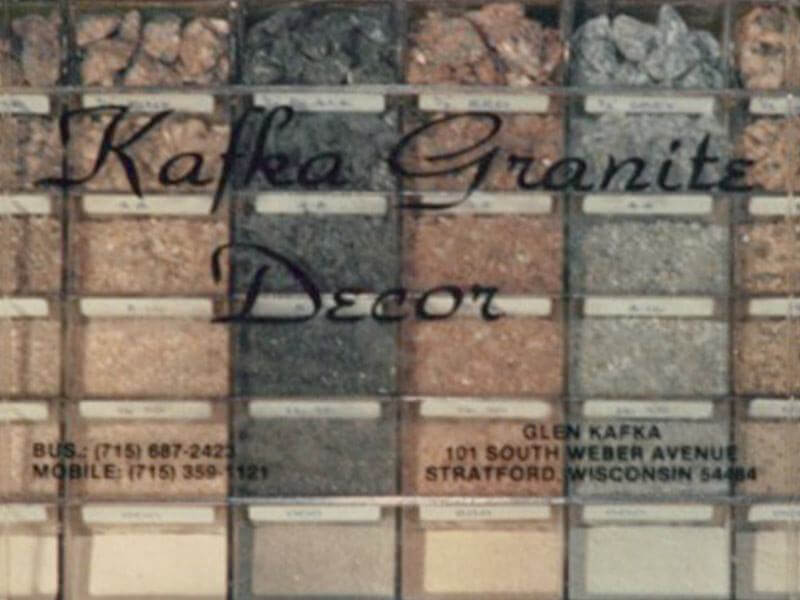 The Birth of Colored Aggregates
Wausau Tile was one of Kafka Granite's first architectural aggregate customers. During an initial meeting while establishing a relationship, Glenn brought in a sample of red granite. However, Wausau Tile desired and asked for more colors. A couple weeks later, Glenn returned and offered them six additional colors. This quick response impressed Wausau Tile who now realized Glenn's serious commitment to satisfy their requests. Ed Creske, owner of Wausau Tile, became one of Glenn's instrumental mentors, teaching him "the product can never be good enough" and to "always be the pioneer." To this day the relationship between Wausau Tile and Kafka Granite remains as strong as ever. Kafka Granite currently provides over forty different colors and a multitude of sizes, many of which are utilized in the products manufactured by Wausau Tile today.
In January 1987, Glenn took an inexperienced sales employee on the road with him cross-country to investigate the marketplace. Upon his return, Glenn concluded that the market warranted the demand for the colored aggregates he provided. It became apparent the company needed to make a major investment in equipment in order to supply its products at nationwide level. The intent was to produce and sell colored aggregate on a nationwide scope primarily for the landscape and architectural precast markets.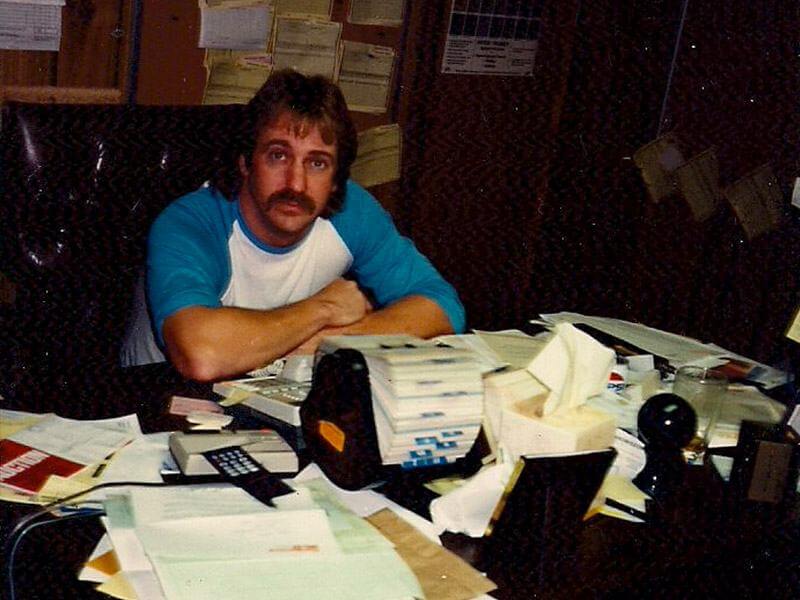 Rapid Expansion
Meanwhile, Glenn recognized the demand for a wide-variety of colors and realized providing additional colors was another avenue to expand his business. Glenn sought and established relationships with various geologists to locate mines and quarries in order to discover new color palettes. Glenn's travels for new products took him as far as Canada. He has also located other raw materials in Wisconsin, Michigan, Minnesota, Georgia, and along the East Coast. Finding these colors proved to enhance a product line in response to customers.
As Glenn devoted more time to colored aggregate, business exploded. Therefore, he decided to sell the decomposed road material business. He now concentrated even more on decorative aggregate, continually seeking new colors, customers, and markets.
Materials provided by Kafka Granite soon came to include multi-colored boulders of all sizes, which are used for decorative landscaping and erosion control. To maintain cash flow, Kafka Granite established distributors throughout the Midwest to sell its cobblestones, boulders, and landscape stone.
With many varieties of color available and with plant operations established, Glenn had time to focus on the precast market. Kafka Granite began to provide higher priced specialty aggregates for the exposed precast panels used in the building industry. These panels are used in commercial buildings, stadiums, parking ramps, skyscrapers, etc. Two exclusive distributors were established to handle the architectural precast market.
Relocation
Up to this time, leased quarry operations continued at the Anderson Johnson location and the groundwork had been laid with a variety of products available on a nationwide basis. However, the crushing equipment and product located on leased property provided no option for future growth. Another significant decision was required due to the inability to expand quarry operations. Glenn felt as if his hands were tied, and thus made the decision to relocate. Moving plant operations included 30,000 tons of product and all equipment; it would be no small task.
In 2000, Kafka Granite purchased an eighty-acre parcel that was secluded and would warrant future expansion. Glenn stripped the land before moving the entire operation from Wausau to Mosinee. The update and expansion of the operation was necessary for efficient operational ability.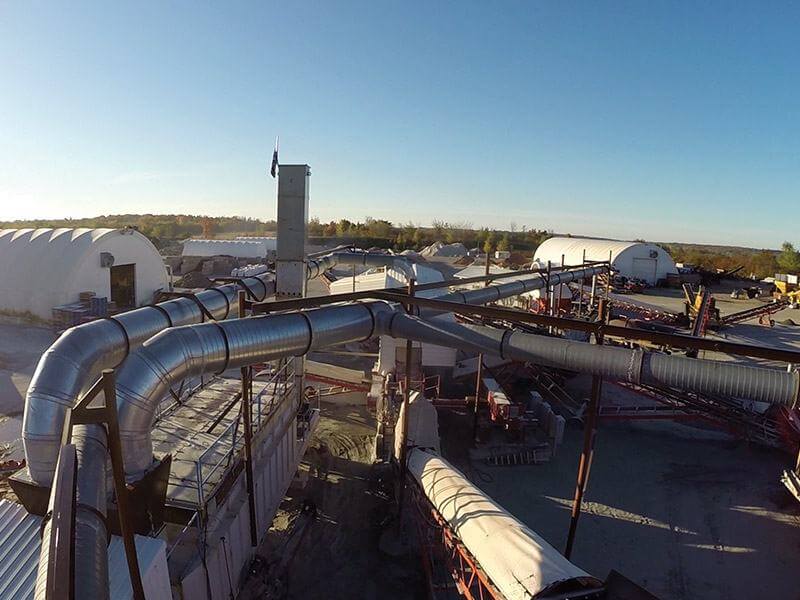 Building a Specialized Plant
The operations to provide these landscape materials require substantial crushing ability. It became imperative for Glenn to utilize equipment to move and organize tons of stone through the plant. A crushing and screening plant specific to Kafka Granite's daily needs was designed and built by Glenn and his brother, Jim Kafka (who owns and operates Kafka Conveyors and Equipment, Inc.).
Today, the plant enables the operation to crush, sort, separate, and clean well over forty different colors of architectural and landscape stone plus custom blends. Glenn also implemented quality controls to ensure that the products meet or exceed strict sizing and standards in order to be shipped all over North America for architectural projects. With the new location operating efficiently, Kafka Granite had the ability to add even more new product lines in the twenty-first century, thus attracting new markets.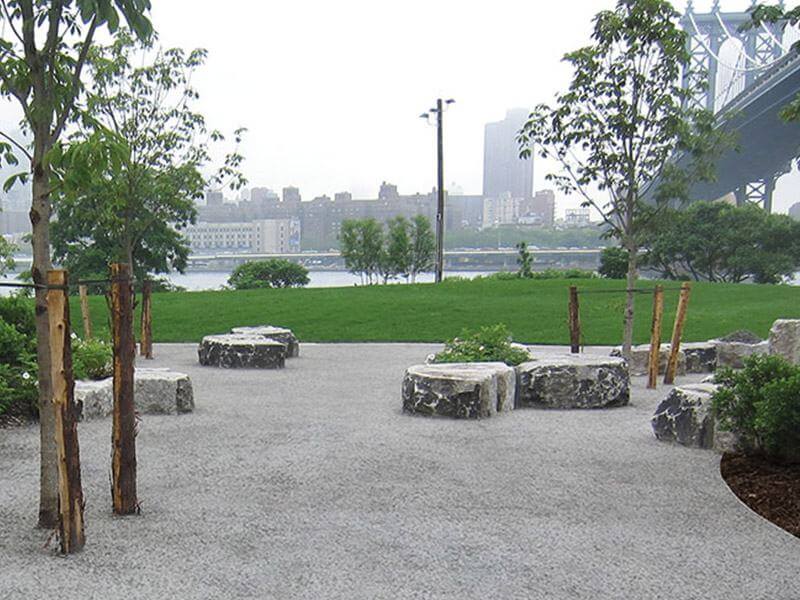 Developing Pathway Materials
Kafka Granite developed a variety of pathway materials that are popular products with park and recreation departments, golf courses, and botanical gardens throughout the U.S. Kafka Granite is conscious about the green movement, thus providing natural products that replace traditional hardscape paving such as concrete or asphalt. Our pathway materials are available with an organic binder, creating a pathway surface that withstands traffic and weather extremes, while still providing a natural look and feel. This product is aesthetically pleasing and natural while attracting the attention of forward-thinking architects, city planners, and design professionals.
Some of Kafka Granite's prestigious pathway projects include: Lake Shore Drive, Cantigny Park, and Millennium Park in Chicago; Whistling Straits golf course; Erin Hills golf course; Walgreens Corporate Headquarters; 3M Corporate Headquarters; and Walt Disney World.
In addition, Kafka Granite invested in a dust collection system to minimize pollution caused in the manufacturing of crushed stone. The stone dust collected can then be utilized as fines in pathway materials, increasing sustainability both economically and environmentally.
Curiosity & Innovation
Glenn's talent includes the curiosity to research and develop new products while having an ability to be multifaceted. His curiosity evolves when he sees a problem and seeks a solution. He contemplates how to resolve the problem, considers potential solutions, and attempts a trial-and-error process until he succeeds. Many of these solutions include the introduction of innovative products.
Noteworthy Creations
Continuing with diversification of markets, Kafka Granite now produces and sells an even wider variety of specialty products nationally, such as:
Ballyard Materials
Using a similar process as the pathway materials, this original product is a specialty blend of waxes and polymers to achieve waterless, dustless, low maintenance ballyard materials. The material requires less maintenance, thus allowing the ballparks to engage in more competition, practice, recreation, and fun while minimizing preparation and eliminating cancellations.
These state of the art infield and warning track mixes are used from local little leagues and high schools to college and major league fields. The prestigious New York Yankee Stadium, the Minnesota Twins' Target Field, Northwestern University, Notre Dame, Iowa State, Iowa University, Dartmouth College, Michigan State, Michigan University, University of Wisconsin, University of Pennsylvania, and Miami University are all examples of locations that have installed this product.
Flooring, Tile, and Countertop
Eventually, a bagging plant was added to the operations, which is utilized to exclusively bag fifty-pound sacks of small marble chips for the terrazzo flooring industry. The final product is applied in hospitals, schools, airports, churches, and shopping malls throughout the U.S. and Canada.
Kafka Granite also began drying, screening, and bagging aggregate in three thousand pound super-sacks for the quartz countertop, tile, and epoxy resin markets. Quartz countertops made using Kafka Granite aggregates can now be found in all Lowes stores.
Epoxy Overlay
A new product line consisting of epoxy resins and tightly gapped graded aggregate creates a non-slip surface for decorative streetscapes and bike paths as well as a non-skid overlay for safer overpasses, bridges, and curves on state and federal highways.
A decorative streetscape is featured throughout Times Square and downtown Manhattan in New York City. Roadway projects have been completed in several states including Washington, Kentucky, New York, New Jersey, Tennessee, Georgia, and Wisconsin.
Permeable Paver Grit
Another venture for expansion includes the environmentally friendly permeable paver aggregate. This product is applied to help collect storm run-off in major metropolitan areas. Projects completed include Chicago's Buckingham Fountains, the Morton Arboretum, and Loyola University.
Recycling
Kohler Corporation and Wausau Tile initially approached Kafka Granite to recycle the porcelain toilets and sinks accumulating in Kohler's landfills. Only Glenn would have thought and embraced the opportunity to crush the porcelain for use in terrazzo tile, countertops, and decorative pre-cast amenities as well as high-friction surfacing for roadways and overpasses across the nation. Kafka Granite has also implemented a process to recycle slags, gypsum, firebrick, glass from televisions and computer screens, and mirrors, which are now manufactured into other green products. Kafka Granite produces several recycled products, which appeal to architects for the LEED points that they earn by using sustainable materials. Kafka is assertively working closely with architects to continue to provide creative and environmentally friendly options for architectural designs.
Glenn's hard work, innovative mind, and entrepreneurial skills have led to a variety of other ventures outside of Kafka Granite. Some include:
Kafka Management, LLC
With Glenn completing the majority of the earth moving and road building, two residential neighborhoods were developed in Stratford, WI as Edgewater Estates and Baywood Shores. The riverfront parcels include over three-hundred-acres that have been divided into over one hundred lots total. These locations provide a beautiful, appealing environment and increased potential for quality living locales for the Stratford residents.
Kafka DustBuster Plus, LLC
After originally creating a dust control product merely for Kafka Granite's use, the company has now grown to market the product statewide through a sister company, Kafka DustBuster Plus, LLC. This product provides the typical calcium chloride solution and also an innovative alternative using magnesium rather than calcium. This combination is the mildest form of dust control available and the only product approved by the park and recreation department. Both products are natural, non-hazardous, and a positive option to minimize dust. Additional development includes blending the products with de-sugared sugar beet molasses (which Kafka refers to as "beet juice"). Beet juice serves as a rust inhibitor, making dust control even more consumer friendly.
Wisconsin Salt Solutions, LLC
This de-icing product, which consists of magnesium-chloride and beet juice, makes winter driving conditions much safer for citizens. Kafka acquired this company, and the product is now provided to municipalities, counties, and the state of Wisconsin.
Kafka Trucking, LLC
The Kafka's created this business entity for Kafka Granite's necessity to transport its products from the rail facilities established in Chicago, Adams-Friendship, and Mosinee. Kafka Trucking is also utilized to insure prompt delivery to customers when outside trucking services are unavailable.
Kafka Wood Products
In 2011, Wausau Paper approached Glenn asking if he was interested in taking the woodchips that were accumulating at the local mill off their hands. This was completely unchartered territory for Kafka, but Glenn took full advantage of the opportunity. He immediately opened a second operations merely for shredding the mill's pine bark waste into mulch and potting soil. Using the same facility, Kafka has now started shredding recycled shingles as well, which can be utilized as recycled content in asphalt roads. With the addition of a Peterson 6710B Track Mounted Horizontal Grinder, Kafka is also now able to offer land-clearing services. Kafka Wood Products grew rapidly in the first few years, and Kafka Wood Products opened yet another facility for recycling wood waste for boiler fuel. We foresee continued success well into the future.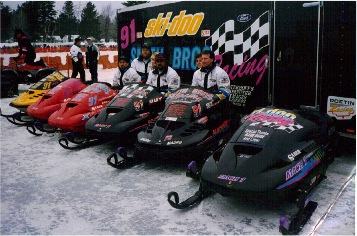 Professional Snowmobile Racing
Glenn has always been interested in and holds passions for many facets of life, one of which is snowmobile racing. During the process of developing Kafka Granite, Glenn owned and operated a professional snowmobile drag race team with Bombardier from 1990 to 2001. With legendary driver Guy Parquette, they won over 70% of their races and were the premier grass and ice drag race team for all eleven years of competition. It was during this time that Glenn also produced and marketed clutch kits for the snowmobile industry and developed and patented studs specifically for snowmobile racing.
In 2001, after Glenn previously assisted many professional snowmobile Snocross teams in the winter months, Glenn's son showed interest in racing. Glenn assisted his son for about a decade as he quickly escalated through the ranks while racing for Polaris Industries. Glenn has continued in the industry by partnering with professional snowmobile racer and freestyle athlete Levi LaVallee to form Team LaVallee in 2009. The team has set world records, won several Winter X Games gold metals, and claimed national championships. Not only has Glenn owned and operated these teams, but has also been instrumental in managing and personally performing the physical tasks of tuning, calibrating, and clutching the sleds over the past twenty years.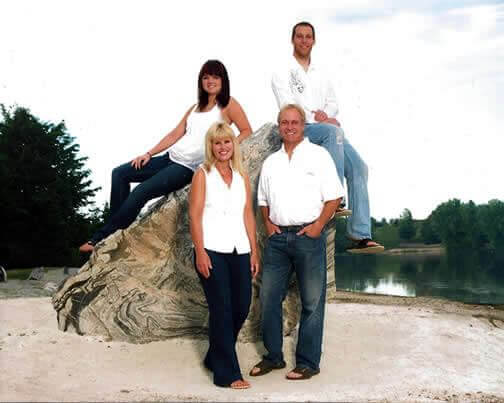 A Family Business
Glenn and Bev had the additional commitment to raising a family while working side by side. The Kafka's have managed family and business issues, weathering the storms, and setting aside time for fun.
Responding to Kafka Granite's growth and development requires Beverly's strength in the administrative functions. Bev has the sizable responsibility for all accounting, banking, employee benefit programs, and regulatory responses. Her work volume has grown in conjunction with the business development. As an active participant she has been influential in building the company to where it is today. She has a strong character and has been instrumental in working behind the scenes supporting the business and is actively involved in critical decisions. Beverly continues to have faith and devotion in the company's vision for future growth.
The Kafka Granite story will continue into the future. The company fosters strong and often personal relationships with customers through providing unparalleled quality, service, and stability. The spirit of Kafka Granite has evolved over time through hard work, problem solving, creative innovation, and seizing opportunities. Kafka Granite is positioning itself to continue its family operations into the second generation.
Glenn and Beverly's daughter Tiffany graduated from the University of St. Thomas in St. Paul, MN with a Bachelor of Arts in Business Administration. She completed a double concentration in both Marketing Management and Family Business, while working part-time for the family business through her high school and college education. She now works full time where she focuses on marketing, as well as assisting with sales, human resources, and other administrative functions. She is progressively gaining more responsibility and credibility. She faces the challenging goal to manage both the administration and all sales/marketing at Kafka Granite.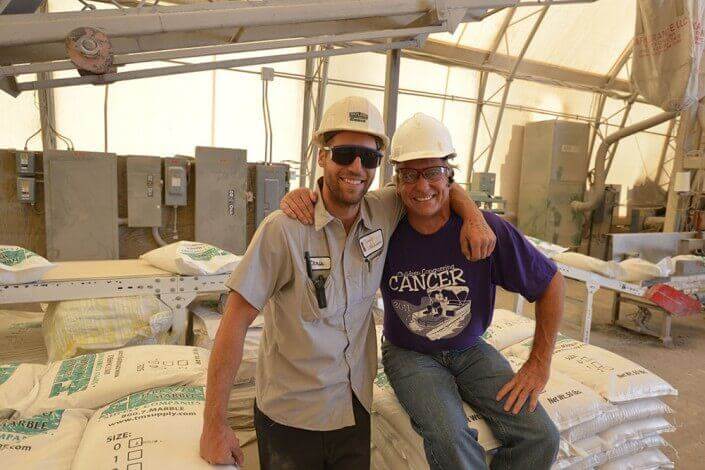 Our Impact on the Community
Kafka Granite also has about seventy employees that are instrumental in the operations. Due to the company's growth, there has been steady employment for several years without the need for layoffs or reductions in force, resulting in very little employee turnover. They offer one of the most generous employee health care plans including paying a significant premium portion with low deductibles. Additionally, the Kafka's embrace a clan culture, taking the time to get to know all staff and their families, creating everlasting friendships. The Kafka's friendly and outgoing qualities are exhibited during and beyond the workday. The Kafka's are respectful of others and are truly positive contributors in their workplace and in the community.
In conjunction with its growth, Kafka Granite has become an active citizen within their hometown of Stratford, WI, participating in many events that have shaped the small community. When called upon they have responded positively, focusing most of their philanthropic efforts locally. Many in this community know the Kafka family and feel free to request assistance for a variety of reasons. Kafka Granite has donated numerous products as well as equipment and trucking services to projects aimed at children, creating appealing, fun, active, and safe gathering places within the community. Notable projects include several area ballfields, the community fitness center, and football field. These projects will last over time, propelling many future generations into physical activity. Kafka Granite also regularly makes financial donations to several other area charities, organizations, and causes.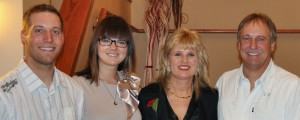 2011 Wausau Region Chamber Small Business of the Year
In the spring of 2011, through sharing this story, Kafka Granite was honored for their growth, innovation, and community involvement as the 2011 Wausau Region Chamber Small Business of the Year. This was a very unexpected, but sincerely appreciated award for the Kafka's. By sharing Kafka Granite's story, the company gained respect and recognition throughout the community, strengthened the bond among employees, and developed a sense of pride and appreciation within the Kafka family. Kafka Granite now shares its founding story more than ever.