Natural Cut Stone
Sawn Cut Drywall

A Refined Blend of Style and Function
No need to sacrifice design when installing retaining walls or other exterior structural projects. Kafka Granite's Natural Stone Sawn Cut Drywall adds sophistication and elegance to any outdoor space, with beautiful cut drywall stones available in a variety of options. Choose from 4″ and 6″ heights, as well as three classic colors: Imperial Gray Granite, Starlight Black Granite, and Harvest Gold Sandstone. Each stone is sawn on the top and bottom to simplify installation, while both faces and ends are split for a more natural appearance.
Kafka Granite Sawn Cut Drywall will give your natural stone retaining wall a profound presence, standing out — or even blending in — according to your chosen color scheme.
ADVANTAGES
Kafka's handcrafted natural Sawn Cut Drywall has sawn tops and bottoms for a streamlined installation, virtually eliminating the need for shimming and re-leveling. These hardscapes will maintain their integrity for decades, making the ideal solution for natural stone retaining walls and other applications.
Since Kafka is able to source your entire project from the same quarry, you can seamlessly pair these cut drywall stones with many of our other product lines, ensuring a beautiful, cohesive look.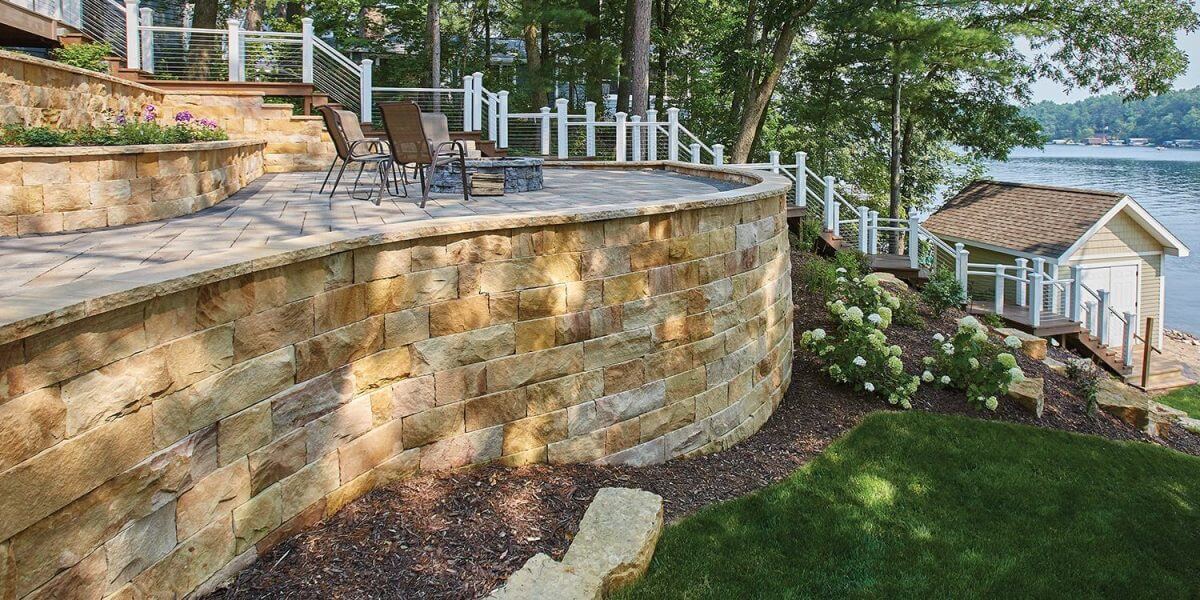 Wisconsin Lake Home Patio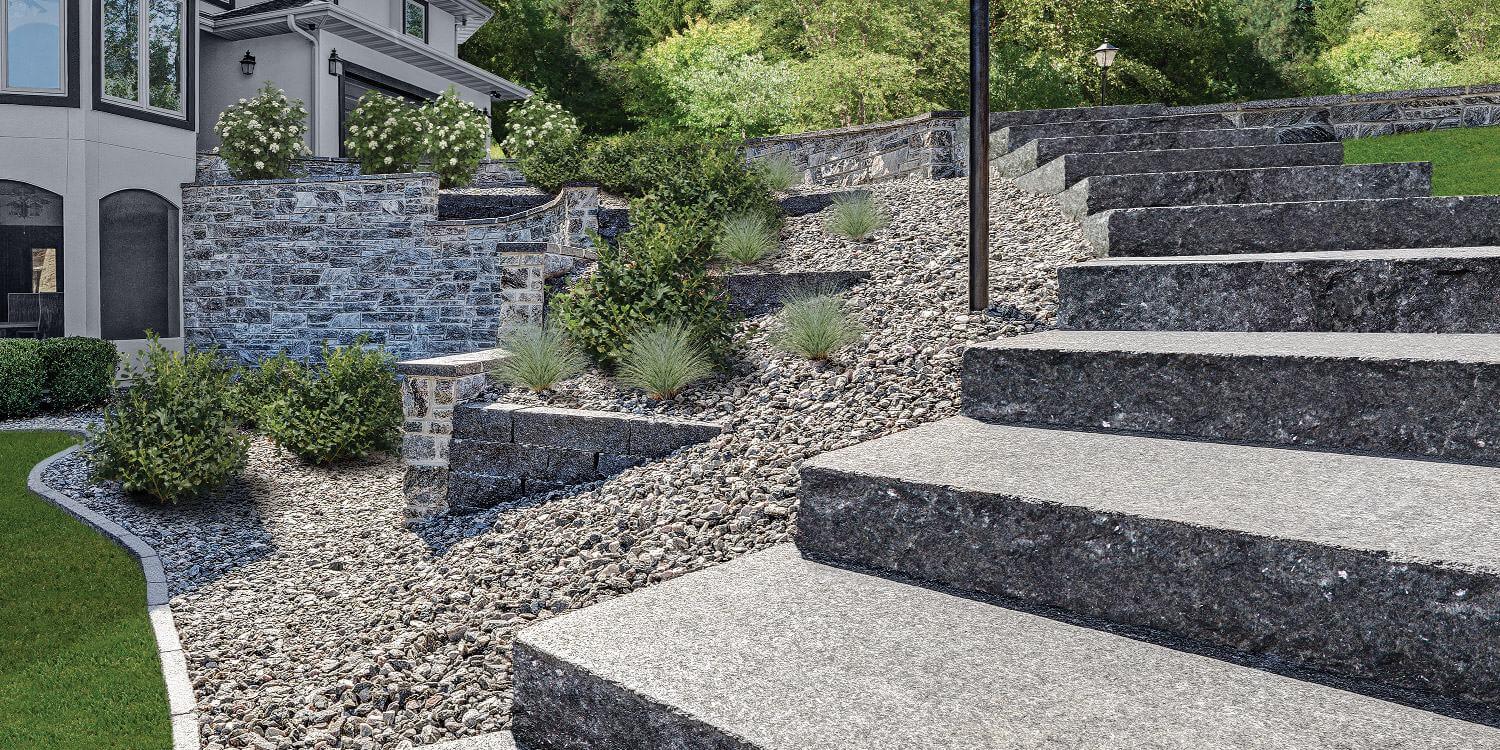 Lake of the Ozarks Summer Home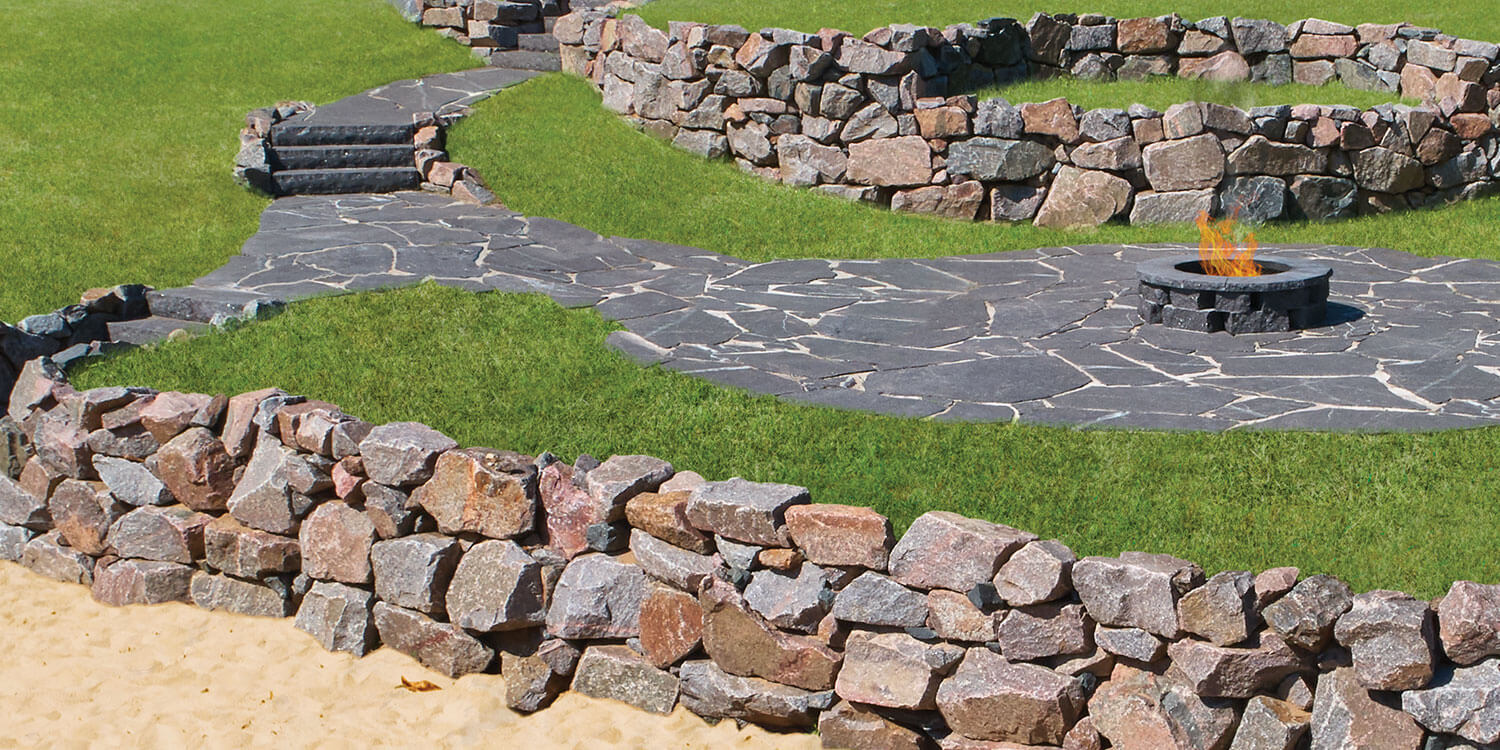 Waterfront Hideaway Project
Frequently Asked Questions
Typical outcropping stone is rough on all sides, which requires extra time and effort during installation. When developing Kafka Granite's Natural Stone Hardscapes, such as Sawn Cut Drywall, we wanted to create a natural stone product line that performs better and installs more easily. Our cut drywall is sawn on the top and bottom, streamlining the installation process. While dry stacked walls still need to be professionally installed, this process will proceed more quickly and smoothly than it would with traditional outcropping stone.
Our Natural Stone Sawn Cut Drywall is sawn to height, which effectively eliminates the need for shimming and re-leveling during installation. This provides a significant advantage over other natural stone products that are uneven. The end result is a quicker setup process and more efficient installation, with the potential for a lower final project cost.
Natural stone is a high-end alternative to cultured or manufactured stone. Despite its higher price point, Sawn Cut Drywall and other natural stone hardscapes offer superior value in the long run. Just consider the longevity of your project — manufactured stone and other cheaper materials tend to degrade and discolor after repeated exposure to the elements. Natural stone, on the other hand, wears beautifully, maintaining its look and integrity in nearly any environment.
Make the choice you'll continue to feel good about. Turn to Kafka Granite's natural stone hardscapes for your next retaining wall, stone steps, or other landscaping projects.