Natural Crushed Stone
Golf Course Materials

Erosion Resistant. Dustless. Easy to Install. Maintenance Free.
When prestigious golf courses such as Erin Hills, Union League National Golf Club, Aronimink Golf Club, Whistling Straits, and The Club at Lac La Belle were looking to cut down on maintenance while preserving a natural look and feel on their courses, they all turned to Kafka Granite's patented erosion-resistant golf course materials. The ease of installation and limited maintenance makes our Wax Polymer Pathway Mix and Bunker Sand a top choice for beautiful, yet resilient pathways and bunkers on courses throughout the United States.
Kafka's Wax Polymer Pathway Mix and Bunker Sand are covered by U.S. Patents 10,675,525 and 11,420,104.
How Does Kafka's Wax Polymer Pathway Compare?
| | KAFKA WAX POLYMER PATHWAY | CRUSHED STONE PATHWAY | ASPHALT PATHWAY | CONCRETE PATHWAY |
| --- | --- | --- | --- | --- |
| Description | Natural crushed stone combined with a polymeric wax. | Crushed stone, base course, and/or fines. | 2″ – 4″ asphalt pavement. | 4″–5″ reinforced concrete. |
| Cost | $$ | $ | $$$ | $$$$ |
| Color Selection | 5 | Varies by region | Limited (additional cost) | Wide variety of pigments, dyes, and stains (additional cost) |
| Installation | Easy | Easy | Moderate | Difficult |
| Self Installation | | | | |
| Durability | High | Low | High | High |
| Cold Weather Performance | Good | Good | Prone to heaving and cracking | Prone to heaving and cracking |
| Maintenance Required | Occasional spot maintenance | Requires regular maintenance | Semi-annual sealant and crack repair | Optional sealing and occassional crack repair |
| Natural Appearance | | | | |
| Erosion Resistance | Excellent | Poor | Excellent | Excellent |
| Dust/Mud Resistance | Excellent | Poor | Excellent | Excellent |
| ADA Compliant | | | | |
WAX POLYMER BUNKER SAND
Kafka Granite developed an erosion resistant bunker sand, which was specially designed for high maintenance, out-of-play bunkers at Whistling Straits. This material can be easily installed over the steep faces of the preexisting bunker sand, which will allow water to shed down into the drainage system without erosion — drastically cutting back on maintenance. Kafka's Wax Polymer Bunker Sand is covered by U.S. Patents 10,675,525 and 11,420,104.
View Product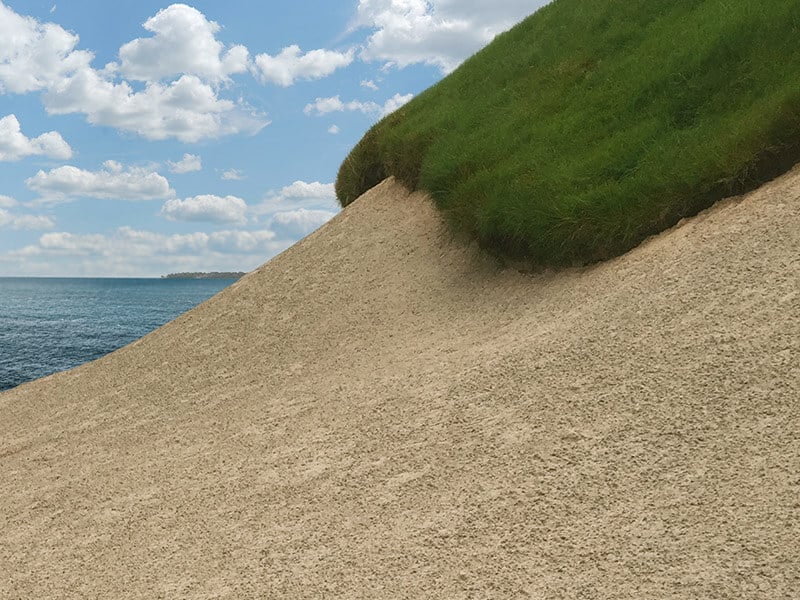 Kafka Granite's pathway product has not only exceeded our expectations with handling, installation and its ease to work with, but the integrity of the product and its ability to withstand the demand of both cart and foot traffic has been excellent. Also, with record breaking rainfall this past year in our area, the product never eroded once. The membership at Loch Lloyd has loved the look and how it naturally blends to the areas where applications have been made. With proper installation, I don't think you can go wrong. We've been very happy thus far and plan to continue its use. —Jeff Steen, CGCS Director of Golf Course Maintenance, The Country Club at Loch Lloyd
We could not be happier with Kafka's Wax Polymer Pathway! It holds our severe slopes, remains dustless, easy to install, with a very quiet ride and walk. —Frank Hancock, Golf Course Superintendent, Eastward Ho!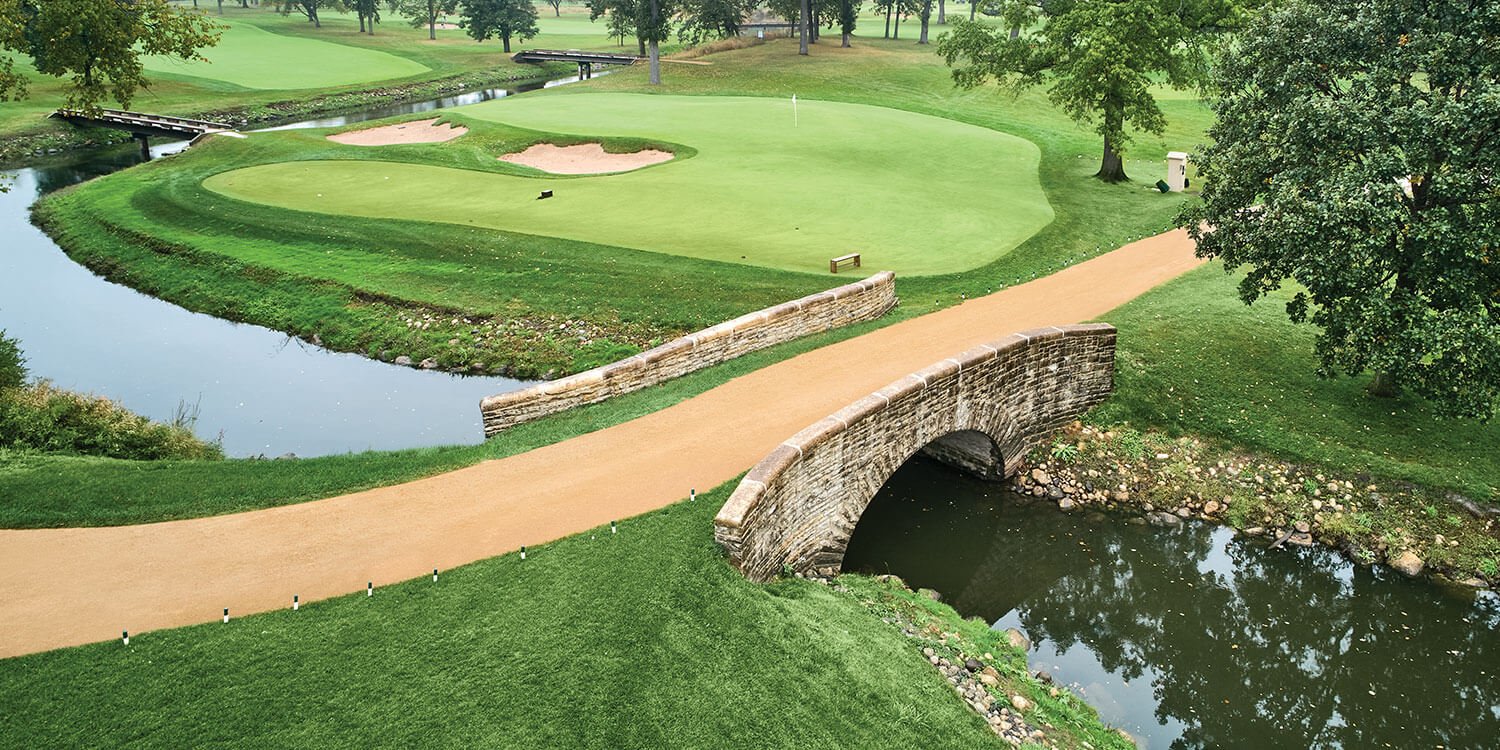 Glen View Club Pathway Project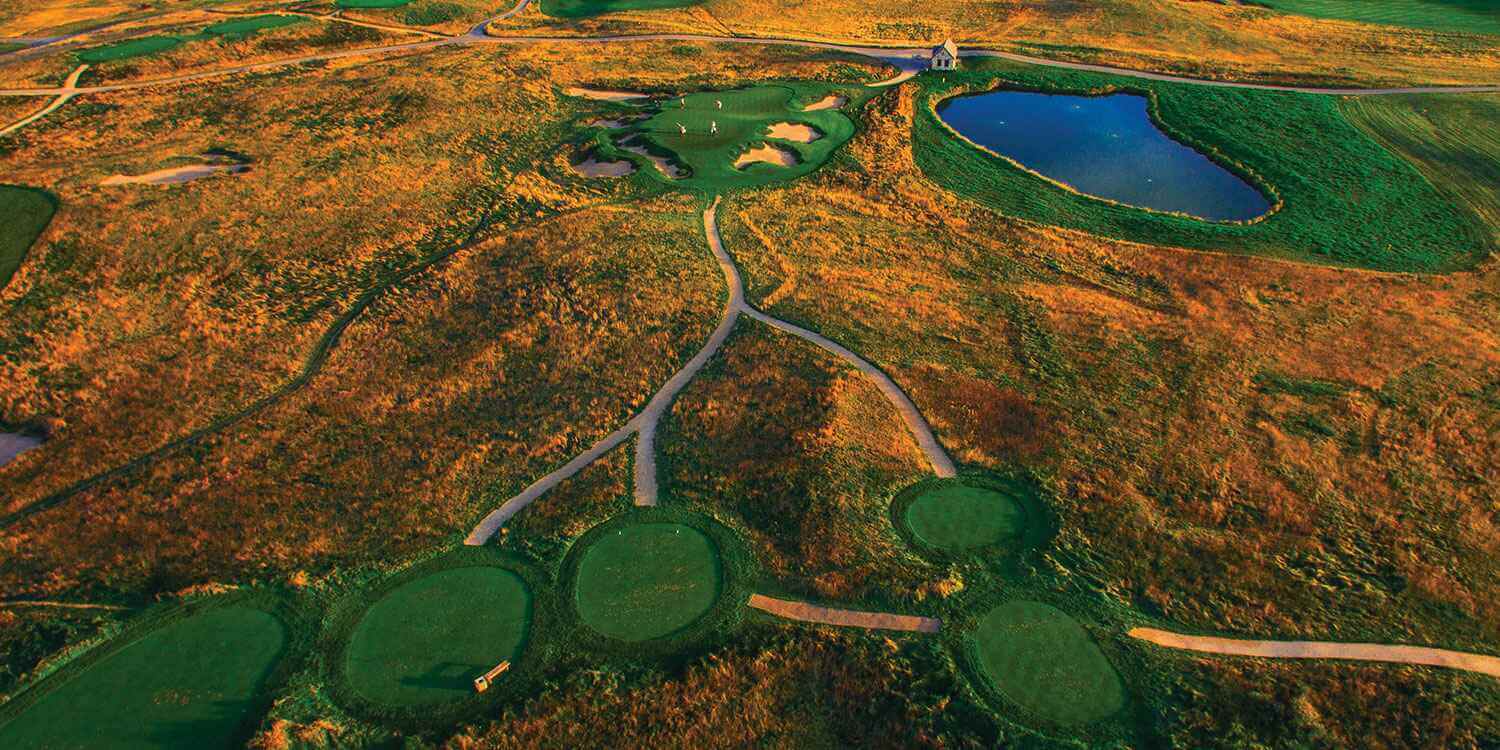 Erin Hills Pathway Replacement
OUR GOLF INDUSTRY STORY
Owner and founder Glenn Kafka discusses Kafka's patented Wax Polymer Pathway Mix and Bunker Sand at the 2019 GCSAA Golf Industry Show.
Frequently Asked Questions
Both of these products utilize Kafka's high-quality decomposed granite or crushed stone, and both can be used on golf pathways to complement the natural look and feel of a course. But our Wax Polymer Pathway Mix combines that decomposed granite or crushed stone with an engineered polymer to create a highly durable product. Stabilized pathway mixes may not be suitable for very steep areas, while wax polymer pathways are ideal for hilly terrain and can withstand intense erosion. Kafka's Wax Polymer Pathway Mix can be laid on even the steepest of hills, making it a reliable choice for golf courses with undulating paths and steep landscapes.
In terms of installation, Wax Polymer Pathway Mix is easier to install because it doesn't need to be activated by water. This product is impermeable, while the Stabilized Pathway Mix remains permeable.
Golf pathways need to complement a course while resisting erosion, withstanding weather, and holding up under frequent foot and cart traffic. That's exactly what our pathway mixes do. Our Wax Polymer Pathway Mix comes in six colors, with Beige Blend being the most popular. And unlike hardscape surfaces like asphalt and concrete, our golf course pathway solutions create an aesthetically pleasing, natural look. If you're looking for a custom color for your course, please contact one of our knowledgeable sales reps.
The product is commonly shipped via bulk end-dump trucks and trailers, with an average truckload of material weighing approximately 23 tons — though the type of material and the size of the truck and trailer will cause this to fluctuate slightly. Less-than-truckload quantities are available in one ton increments, but may be subject to additional set-up fees due to small production runs.
If bulk truckload shipping is not an option, product can be packaged in ~3,000-pound super sacks. These 1½-ton bags provide easy transportation via flatbed, van, or LTL common carriers, and also facilitate easier storage and handling on job sites. Optional rain covers are also available.
The Wax Polymer Pathway Mix is easy to install and requires little maintenance, meaning you'll be able to allocate more resources towards the rest of your course, rather than towards installing and maintaining your pathways. Additionally, this product is pre-mixed to make installation a breeze. No water is needed for the process—simply lay the material, level the surface, and compact. The best part? Our Wax Polymer Mix is completely dustless and doesn't get muddy, making it perfect for golf pathways.
Erosion is a constant concern on golf courses, particularly those with hilly terrain or those that are exposed to severe weather or freeze thaw cycles. We designed our bunker sand specifically to combat this issue and protect high-maintenance bunkers. Kafka's Wax Polymer Bunker Sand is extremely erosion-resistant and can be installed easily over existing bunker sand. Our specially designed sand forces water into the drainage system on a golf course without taking the sand with it, protecting your bunkers and reducing costly maintenance.