City parks and nature reserves are places where whole families can go for a fun retreat from the rigors of the day. Outfitted with a variety of amenities ranging from groomed pathways to open fields to playground equipment and basketball courts, parks are a way for everyone to unwind with a breath of fresh air. Kafka Granite has played a role in paving parks and pathways with high-quality aggregates for decades. From large projects like Brooklyn Bridge Park in the heart of New York City, to smaller local parks and community recreation facilities, Kafka knows the importance of creating healthy public spaces that anyone can enjoy.
With incredible varieties of pathway mixes and ballyard materials, we've been able to help pave recreational walkways and athletic surfaces for a wide variety of public and private applications. That's a lot of fun memories being made on our aggregate mixtures. Throughout the decades, we've seen the evolution of city parks as we know it, and there is a new trend in public arenas that has us excited: exercise parks. In lieu of the traditional teeter-totters and merry-go-rounds for children, exercise parks are built with health-related stationary equipment for adults to boost their heart rates and enjoy physical activity in the company of friends and community members.
The Need for a Healthy Outdoors
It's no secret—obesity has become a veritable pandemic throughout America. Scales are tipping as new data shows that more than one-third of U.S. adults are considered obese with 1 in 20 reaching extreme obesity. An addiction to sugar, easy access to cheap processed foods, and longer working sedentary working hours have created a population of people who need more options for getting fit. Many barriers to exercise include poor proximity to a gym or the cost to join the gym. Additionally, a lot of people don't like the feeling of being boxed into a gym—the smell, the congestion, and the crowds can be turn-offs for many.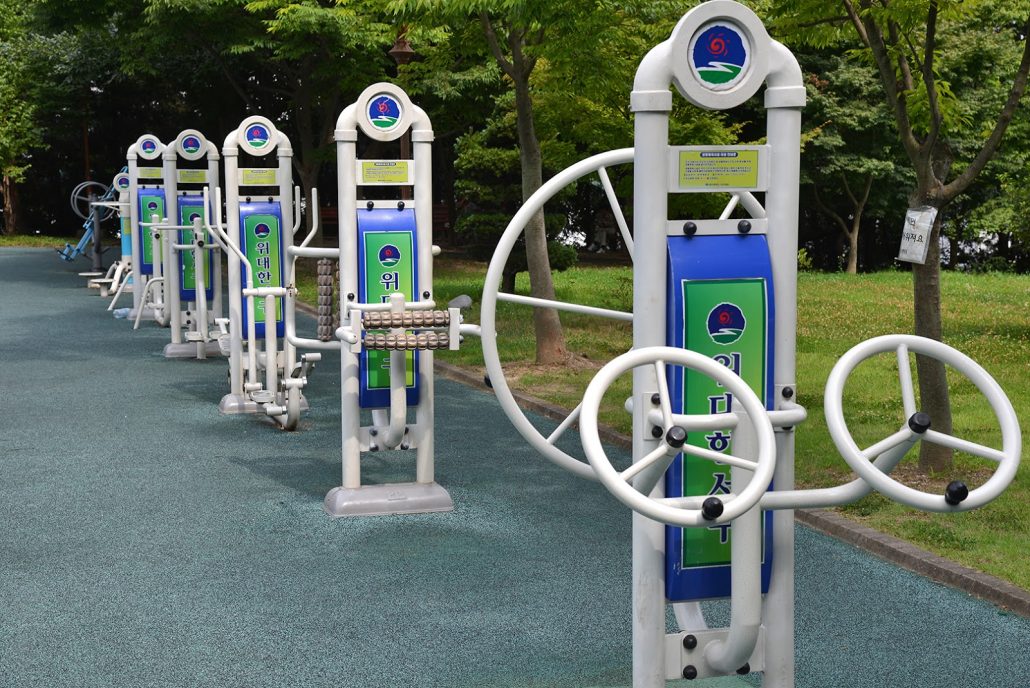 Exercise parks are an excellent alternative for people looking to get fit for free in the great outdoors. They're also a way for cities to show that fitness and health are public priorities that will help everyone live longer, happier lives. As more cities realize that accessible fitness spaces are good for everyone, the more you can expect to see them pop up. Priority for construction is in "fitness deserts," or areas where there aren't many (or any) fitness options.
These areas also open the floodgates for people who are new to working out; they can try a simple machine at first and work up to more at their own pace. And the convenience is virtually unbeatable. Long gone are the days of watching your kids play at the park from the seat of a park bench. Instead, adults can keep an eye on young ones from their perch on the elliptical or weight machine.
Wide Variety of Exercises and Benefits—for Free!
You may be wondering how an exercise park can include more equipment than playground staples like monkey bars or ladders. The evolution and affordability of weather-resistant, tamper-proof exercise equipment is surprising. Equipment targets the full range of muscle groups and joints, and they're easy to use by people of all skill levels and abilities. From bodyweight equipment such as chest presses, body curl stations and parallel bars, to cardio machines like ellipticals and hand cycles, these parks truly serve as a well-rounded fitness arena for anyone to use, anytime of the day.
While many exercise parks include one clearing with the equipment planted in a common area, some parks are starting to incorporate fitness trails. A walk or jog along these trails will have you coming across a variety of fitness stations that each target different muscle groups or fitness activities. Not only will the fresh air keep participants motivated, but the natural surroundings are sure to be more pleasant to get fit in than a muggy and crowded gym. Kafka has, of course, been more than happy to help urban developers find the perfect standard or stabilized stone pathway mixtures that make the perfect exercise trail.
Planning an Exercise Park Can Be Easy
Does your next outdoor project include planning and building an exercise park? Kafka Granite can help. A successful exercise park is going to need to be supported by any number of additional attractions, such as walkways to and from the park, ballparks for play, and bike paths for commuters to reach the park. The materials chosen for these additions needs to be able to withstand high amounts of foot traffic, digging and cutting from busy feet, and a variety of weather types. Kafka may have just the solution you're seeking.
With a palette of nearly 60 colors to choose from, any exercise park can get a bold injection of color or a natural aesthetic with Kafka Granite stone through high-end pathways materials. And with a broad range of ballyard mixes, your ballfield won't be left out when redesigning your entire park space. The materials used in both our pathway and ballpark mixtures can withstand rigorous activity while providing active park goers with safe footing while on their way to or enjoying their favorite outdoor activities. Additionally, with our permeable aggregates, both pathway and ballyard mixes, your park visitors will be able to enjoy your park's facilities regardless of rain or shine.
No one wants to slosh through mud to get to your exercise park or neighboring ballfield. Maintaining clear pathways will eliminate one more obstacle that's keeping your community members from getting active. Both the elderly and young will rely on dry, non-slip pathways to get them where they want to be in your finished exercise inclusive park. If the entire park goes from fitness haven to swimming pool, the value of the equipment is lost and deterioration could set in if the machines are left surrounded by a moat of water keeping would-be exercisers away.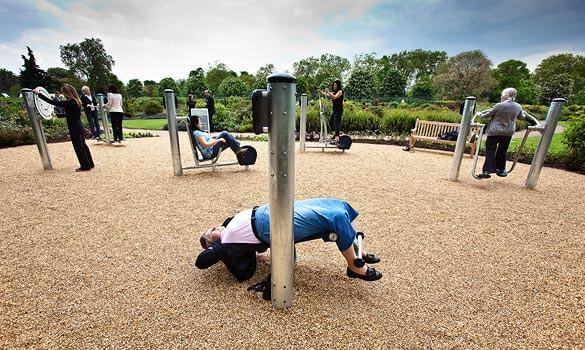 Instead of making health-hungry citizens wait days for a path to clear to reach their new favorite exercise park, install a solution like a stabilized decomposed granite surface. Natural, permeable, and durable, this option would be able to hold its own against rigorous exercisers and torrential downpours alike. It's also easy to install, maintain, and replace over the years. Less obtrusive than cement or asphalt, it's a popular pathway choice for outdoor facilities.
Jumpstart Your City with Healthy Goals in Mind
If you're stuck wondering what the perfect addition to your city would be, consider an exercise park. Grants can be obtained to help alleviate financial restraints and the benefits for the community are undeniable. Playgrounds are evolving and adults can now have some fun, too. Instead of taking a backseat to their kids running around, adults can get in on the fun and break a sweat, too.

If you're considering incorporating an exercise area into your next park, or if you're already in the planning phases of construction, don't hesitate to give our experts a call and ask about our ideal landscape material options. Avoid getting stuck with unsightly asphalt and nonporous cement. Instead, use a beautiful, durable, permeable and more supportive surfaces to help everyone achieve their fitness goals.