Commercial properties are often large, sprawling expanses that may be the site for a corporate campus, warehouses, office buildings, or more. Despite not being a small or cozy area, expansive commercial landscapes don't have to remain barren or boring. Kafka Granite is familiar with making large-scale projects look beautiful inviting, as can be seen by our work on the Navy Pier, Buckingham Fountain, and Loyola University. We understand trying to strike the right balance between creating a good-looking space while maintaining its functionality.
By providing landscaping materials that are both beautiful and incredibly durable, Kafka is able to offer the product you need to make your commercial landscape architecture stand out from walkway to retaining wall. Whether you're starting with a blank slate or have some pathways or parking lots in place, let us help you with designing your commercial landscape. Not only will we help you to transform or complete your project, but with our green alternatives you can take your project one step closer to obtaining a SITES or LEED certifications.
Combine Form and Function
The very first step to ensuring your commercial landscaping is stunning, and logical, is to make a plan. How extensive or simple this step is may depend on the size of your lot or the scope of your project; the larger the lot or project, the more planning you may have to do. If you're sure of what your property needs when it comes to the landscape, then you might be able to do this part by yourself. If you're uncertain about how you want the layout of your landscaping to "flow," then the eyes of a professional landscape architect may be necessary.
Draw a map of your property and make note of where structures and trees already exist as well as where the sun hits during the day as this could affect where you plant certain types of sun-loving flora. Once permanent items are marked, the next step is to play around with where you envision things like parking lots, outdoor seating, pathways, gardens or courtyards. Remember that pathways and courtyards don't have to be so linear or square—make sure to test out different curving lines or shapes, and see what feels best. Additionally, consider how you truly want the space to be used. Can you see your staff wanting to sit outdoors for lunch? Do you envision guests walking along an especially scenic part of the lot? Is there a steep grade that would benefit from a retaining wall? By thinking about how the space will be used, you'll be better able to plan for what you build in it.
This initial phase is also a good time to try and tie your landscape architecture to the design of your building. You can complement the colors or textures of existing structures by using different colors of granite or flowers within your gardens. Create a tentative color palette for your overall design to serve as an inspiration for the rest of your project.
Make a Good First Impression
The landscape architecture of your business is also important in that it can make or break a visitor's first impression. If your business is one that sees a lot of visitors, who are clients or otherwise, focus on making a good first impression. This means making the entrance a focal point so that it's easy to find and is welcoming. Establish a clear path from the parking lot to the entryway.
When it comes to essential elements like trash bins outside the entry, consider using tasteful and good-looking alternatives to the plastic garbage can. By using alternatives like a crushed granite decorative precast waste receptacle, you can make garbage go away with an aesthetically pleasing container. What's more is that decorative precast features can be made using any color of granite to match or complement materials used elsewhere, and they can include outdoor furniture like benches, tables, and more. Kafka Granite for example, offers over 50 different colors of decorative precast aggregates.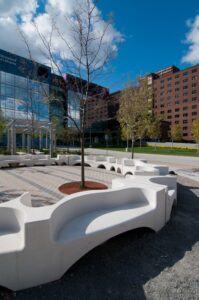 Choose the Colors and Materials of Your Landscaping Material
Now that you've decided what features you need from your landscaping and how you'll make a welcoming first impression for your guests, it's time to figure out what materials you'll want to use to make your plan a reality. Questions to ask yourself to help figure out what materials you'll need include:
What will your pathways be made of?
Do you prefer cobbles, pavers or decomposed granite? Each material will have a different aesthetic appeal and one may match the look of your building's architecture more than the others.
What color will your pathways be?
Color is always a tough decision whether you're painting a wall or choosing an aggregate. Do you want a natural look? Perhaps you want a look where the pathway truly pops? When you come to Kafka Granite for crushed granite walkways, you'll be met with over 50 color options. With variety like that, you have your pick of neutrals, greens, reds and more.
What kind of traffic will be on your pathways?
Something you may have considered in your planning stage is how your pathways will be used—are you expecting just foot traffic or will there also be bike, golf cart, ATV or light vehicular traffic? By measuring the wear and tear that will be taking place on your paths, you can choose the best material available whether it's standard, stabilized or wax polymer. We've spoken extensively about the difference between these three pathway materials on our blog.
What is your parking lot going to be made of?
Not every parking lot has to be an endless sea of asphalt. Don't be afraid to incorporate your parking lot into your grand landscaping architecture design. In lieu of asphalt, imagine using permeable paverss with environmentally friendly permeable paver grit.

What surrounds your gardens?
Depending on your landscape architecture, the gardens or foliage in your design may be natural and unenclosed, or they may require a bit more structure from distinct edging and retaining walls. Retaining walls can be made from boulders or more angular decorative rip rap if you're looking for a unique and beautiful option. And when it comes to your flowerbeds, will you be using decomposed granite landscaping stone or mulch as your base? These options may seem small but they can make all the difference when it comes your project's end result. 
How much money or time can you put toward maintenance?
If the answer is, "Very little," then perhaps high-maintenance gardens aren't the solution for your landscape. Crushed stone-based xeriscapes can are becoming more popular as they require less maintenance and water, and they are a beautiful alternative to thick gardens. Consider this factor when ultimately deciding how much hardscape to incorporate into your design.
Get Started on Your Commercial Landscape Architecture Today
If you're looking to get started on a commercial landscaping project, make sure you do it right. Coming to Kafka ensures you get the best materials and the best selection on the market to achieve exactly what you envision. Call us today to find a dealer near you or to speak with one of our expert consultants. If you're a landscaping materials dealer searching for a way to carry a great selection, chat with us to find out about our dealer program. With so many colors and materials to outfit every part of your landscape's design, you'll be thrilled you chose Kafka Granite.