Natural Crushed Stone
Standard Pathway Mix

Natural Pathways with Excellent Drainage
Naturally occurring decomposed granite, commonly known as DG, is created as granite is compressed over millions of years and broken down into a combination of sand and gravel. At Kafka Granite we offer naturally occurring decomposed granite screened to size. However, we also crush nearly 40 different colors of solid quarry rock and recycled materials to manufacture essentially the same type of product as naturally occurring DG. Both naturally occurring decomposed granite and crushed stone screenings are completely organic and environmentally safe.
Standard Pathways work great for low traffic walkways, residential driveways, nature paths, dog runs, bike trails, and garden trails.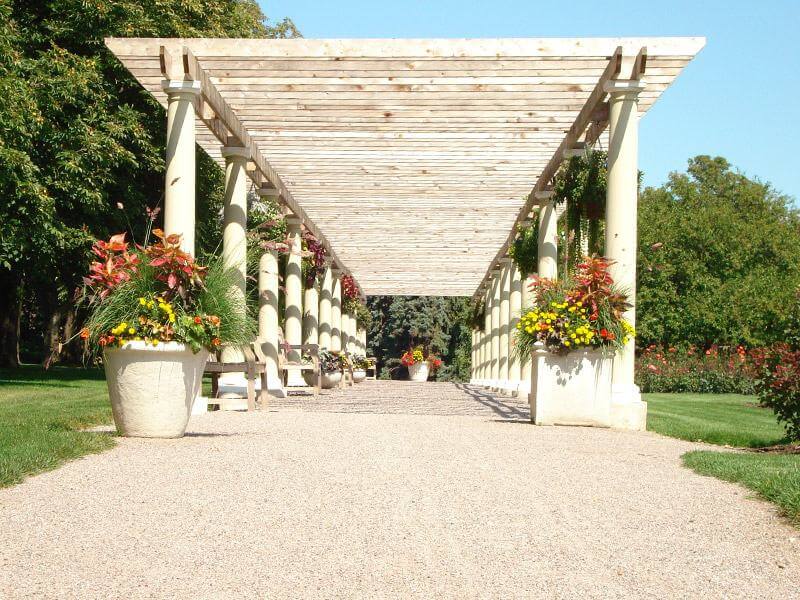 How it works
Kafka Granite's Standard Pathway Mix aggregate is 1/4″ minus with fines. This specific size allows the product to compact well, creating a firmer surface than conventional gravel, while still allowing water to permeate through. If you are considering using decomposed granite or crushed stone screenings for commercial applications or in high traffic areas, Stabilized Pathway Mix or Wax Polymer Pathway Mix may be more suitable for your project requirements.
Get a Quote
ADVANTAGES
Kafka's Standard Pathway Mix is available in nearly 40 different colors, allowing Landscape Architects and Designers greater creativity in their projects. Whether matching our Pathway Materials to other products or creating contrasting color spaces in your design, Kafka has you covered.
Another advantage of working with Kafka is the ability to source your entire project from complementary categories of our natural stone products.

Installation & Maintenance
Proper installation and maintenance is critical to the durability and longevity of any pathway, and that all starts with a plan. First, you should decide where you want your path to be. You can do this simply be drawing a crude sketch of your vision and pathway location or even by staking out the path along your intended route. Next you will need to determine how much material is necessary for the project. This is dependent upon a number of factors, including the size of your path, the materials being used for the aggregate, and the intended use of the pathway (pedestrian or vehicular).
The depth of your base material and Kafka's Standard Pathway Mix is determined by the pathway's intended use. Your base should utilize 4-6 inches of compacted local DOT-approved road base for pedestrian traffic and 8-12 inches of compacted base material for vehicular traffic. Kafka Granite recommends a minimum 3 inches of compacted Standard Pathway Mix for pedestrian pathways and 4 inches for vehicular use. Use the Pathway Mix Calculator to determine the amount of material to order.
Note that the Kafka Standard Pathway should be firm, but loose aggregate will appear on the surface as time passes for a natural look and feel. If the loose material on the surface is excessive, water the surface and re-compact as needed. Additional material can be spread, watered, and compacted as needed.
Get a Quote
Frequently Asked Questions
Kafka Granite offers pathway materials ideal for a variety of scenarios. We offer crushed stone, decomposed granite, and an array of crushed recycled materials that can lend themselves aesthetically and functionally to any space or project.
Our decomposed granite aggregate and crushed stone come in nearly 40 colors, leaving you with essentially endless visual options for your project. Many of our options are locally sourced or are made from recycled materials, which could help garner points toward LEED certification.
Kafka Granite's Pathway Materials are an affordable and often more environmentally friendly alternative to other hardscapes like asphalt or concrete. We have the ability to match and complement your natural environment with unmatched aesthetic appeal all while standing up to the tests of time, weather, and traffic. Our service is second-to-none, and our color variation is what sets us apart. No matter what aesthetic you're trying to achieve, Kafka can help you. Contact us today to locate a dealer near you or to request free samples to help you decide the right Pathway Material for your project.
Standard Pathway Mix is ideal for low-traffic areas that call for a permeable and easy-to-manage pathway solution. This option doesn't include any additives, but is crushed to the perfect size to warrant optimum compaction and drainage.
Stabilized Pathway Mix includes our aggregate mixed with an organic stabilizing binder. The addition of an organic binder enhances the durability of these pathways while not compromising its natural quality. These pathways remain permeable and work well in areas with slightly higher pedestrian or vehicular traffic, or in areas that require wheelchair accessibility.
Wax Polymer Pathway Mix is the most durable pathway material offered by Kafka. Our crushed stone, granite aggregate, or recycled material comes premixed with an engineered polymer that completely eliminates mud and dust. The addition of engineered polymer makes this an impermeable pathway, but this is the ideal solution for areas that are steeply graded.
The product is commonly shipped via bulk end-dump trucks and trailers, with an average truckload of material weighing approximately 23 tons — though the type of material and the size of the truck and trailer will cause this to fluctuate slightly. Less-than-truckload quantities are available in one ton increments, but may be subject to additional set-up fees due to small production runs.
If bulk truckload shipping is not an option, our Pathway Mixes can be packaged in ~3,000-pound super sacks. These 1½-ton bags provide easy transportation via flatbed, van, or LTL common carriers, and also facilitate easier storage and handling on job sites. Optional rain covers are also available. Specialty aggregates that are packaged in super sacks are available in 1 ton minimum orders and may be subject to set-up fees.
Kafka's Standard Pathway Mix creates natural aggregate surfaces, and using them in your construction or design project could gain you points toward LEED (Leadership in Energy & Environmental Design) certification. Kafka also recycles materials such as porcelain and slag for use in place of natural stone pathways in order to add recycled content to your project.
All of our granite, quartz and marble pathway materials are a natural material and is less obtrusive than asphalt and cement. It is a permeable pathway solution, which makes it a green pathway option and will aid the soil and water flow wherever installed. Water will be less likely to pool up and more likely to disperse back into the water table.