When it comes to selecting pathway materials for high traffic areas, there are plenty of options for buyers to consider. Concrete, asphalt, brick, and pavers are among the most common materials to use for high traffic hardscaping projects. Many of these applications are effective, but some can take a beating and chip and crack over time. Other applications require regular maintenance and may not be as friendly to the environment. As an architect, landscaper, engineer, or contractor, what is the best choice you can make for your project that's better for the environment without sacrificing quality? The answer might be found in decomposed granite.
Decomposed Granite – The Natural Look
Decomposed granite is an ideal material for firm pathways where a natural look is preferred. It's where hardscape meets softscape: a durable surface with natural qualities. Its resilience to high traffic wear and tear works well for pathways that carry pedestrians and vehicles on a daily basis. It is affordable, environmentally friendly, and an aesthetically pleasing alternative to traditional hardscape materials. Commonly known as DG, decomposed granite is granite that is naturally broken down into gravel and sand by millions of years of pressure underground. Solid quarry rock and recycled materials can also be carefully crushed, sized, and blended into aggregates that mimic decomposed granite composition, so you have even more natural colors to choose from.
At Kafka Granite, we offer more than 50 different color options that are crushed and screened to the perfect size and gradation for your specific project. All of our naturally decomposed granite and crushed stone products are organic and environmentally safe. We blend these materials into three main variations for pathway applications: Standard Pathway Mix, Stabilized Pathway Mix, and Wax Polymer Pathway Mix. Let's take an in depth look at how these pathway materials can be used for different high traffic project applications.
Standard Pathway Mix – A Practical Application for Pathway Durability
Kafka Granite's Standard Pathway Mix is generally screened to a fine ¼" minus size for a firm surface that compacts well and retains permeability. The specific gradation warrants maximum compaction while allowing water to permeate and drain through. Standard Pathway Mix provides the substantial durability of granite with a naturally beautiful look and feel that complements well with landscaping and architectural plans. It is suitable to use for smaller scale projects in areas such as nature paths, bike trails, courtyards, patios and residential driveways that have regular traffic.
Stabilized Pathway Mix – A Natural Alternative for Large Commercial Projects
Stabilized Pathway Mix offers many of the same advantages of our Standard Pathway Mix, but is pre-blended with a natural stabilizing binder to create an even more firm, durable, and resilient pathway. Its strength is suitable for larger, high-traffic applications such as botanical gardens, golf cart paths, bike trails, nature paths, and commercial properties. Stabilized pathway mix offers better resistance to weather and traffic erosion than traditional pathway mixes, and it blends well to natural surroundings.
Since binders work differently in variable conditions like local climate, individual aggregate type, and slope angles, Kafka Granite offers a choice between two kinds of binders for our Stabilized Pathway Mix – Organic-Lock and Stabilizer Solutions. Both binders are made from 100% natural materials that strengthen surfaces, reduce maintenance, and prolong the life of the pathway.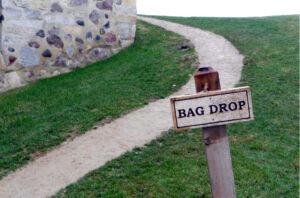 Wax Polymer Pathway Mix – A Creative Solution for Demanding High Traffic Projects
Our Wax Polymer Pathway Mix is a unique alternative to pavement that offers a waterless and dustless pathway solution. We combine the aggregate color of your choice with an engineered wax polymer for a sealed, non-permeable surface that does not get muddy or dusty. This unique mixture provides solutions for extremely high traffic areas, steep slopes, and other demanding pathway projects. The pre-mixed formula can be easily installed without water, and is easy to maintain. It allows greater creativity in design applications for architects and landscapers.
Got a Specific Goal in Mind? Let Kafka Granite Help You Achieve It
At Kafka Granite, our state of the art crushing facility meets nearly any color and size specification. Through testing and approval, our sample lab and sales team will work with you to help you achieve your unique project goals. To learn more about our services and what we do, contact us for a free quote and complimentary product samples. We are also happy to give you a tour of our facilities or schedule a free Lunch and Learn presentation for your team. Our knowledgeable sales team is ready to help you discover the solutions to your project needs.
With Kafka Granite on your side, the possibilities are endless!