Sometimes designs require a quality pathway that blends well with the natural setting. Or perhaps you need a more environmentally friendly alternative to obtrusive concrete and asphalt. Kafka Granite offers a number of natural options for decomposed granite pathways. Each option offers an aesthetically pleasing and affordable alternative to the more traditional pavers, asphalt, concrete, or other hardscape materials.
The three options you have to choose from for any commercial pathway in Minneapolis metro area are discussed here in more detail. Learning all you can about the different options will allow you to make an educated decision regarding which product is right for your particular needs.
Standard Pathway Mix
Decomposed granite, commonly referred to as DG, occurs naturally and is created through a process of compression that spans millions of years. As a result, the granite is broken down into a mixture of gravel and sand. When you browse our selection in this option you will find there are more than 40 different colors to choose from. Kafka Granite offers both naturally occurring decomposed granite, as well as a variety of granite, marble, quartz, and recycled materials that are carefully crushed to mimic the composition of DG.
Both options – the naturally occurring decomposed granite and the crushed stone offered by Kafka Granite, are organic and therefore environmentally safe. Our mixture compacts well, which will create a firmer surface than traditional gravel options, while still allowing water to go through the surface. The standard pathways option is ideal for low traffic areas, such as garden trails, nature paths, residential driveways and walkways.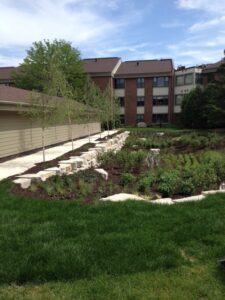 Stabilized Pathway Mix
This option includes decomposed granite, or crushed stone, that have been blended with an organic stabilizing binder. This process binds and locks the pathway mix in order to provide a permeable, durable, and completely natural surface. Due to the nature of the stabilized surface, this option better resists the erosive effects of traffic and water, compared to the more traditional gravel materials, while still offering a natural look that blends well into natural settings. The Stabilized Pathway Mix is often used for trails, golf course paths, greenways, nature paths, green roofs, botanical gardens, or any other environment where a much more organic feel is wanted.
However, here at Kafka Granite we understand that each option is unique and therefore we can provide a unique solution. There are two different binding options to choose from, including Stabilizer Solutions and Organic Lock. Different scenarios call for different binders and we will help you determine which option is right for your particular project.
Wax Polymer Pathway
This option features a combination of granite, marble, quartz, or recycled materials with an added engineered polymer. The process used to create this option is completely waterless and offers a popular paving alternative. Also, this option offers the added benefit of being a completely non-permeable, sealed, and dustless natural surface for plazas, driveways, golf cart paths, patios, and pathways. The unique process provides for a much larger amount of creativity in terms of design applications and offers solutions for projects that are heavily traveled.
The Wax Polymer Pathway option is always pre-blended, which ensures an easy installation process. Minimal maintenance is also required and no water is necessary for the product. All you have to do is lay the material, level it onto the surface, and then compact it. Once applied, it is able to be dug up and then re-laid when necessary to provide subsurface access to various utilities, or for a site plan modification and maintenance. Another extremely appealing feature of this option is that the Wax Polymer Pathway is completely dustless and it will not get muddy.
When you consider the options that are available, you can clearly see why Kafka Granite is a leader in the industry. Browse the available options and discuss them with our industry professionals to find the right solution for your particular project. When it comes to commercial or residential pathways in Minneapolis, finding the right material is essential. We can walk you through the process, step by step, to ensure you achieve the results you desire.