Kafka Granite pathway materials are available in the Chicago Area. Our pathway materials are offer a more natural and appealing alternative to hardscape surfaces. Pathway materials are perfect for bike paths, nature trails, walkways, gardens, cart paths, and just about any type of track and trail system. Our decomposed granite pathways are beautiful, affordable, and natural compared to obtrusive hardscape such as concrete, pavers, or asphalt. Our decomposed granite pathways are available in 50 different colors and three different varieties:
Standard Pathway Mix
This is one of our most natural options for a pathway. This decomposed granite occurs naturally when granite has been compressed for millions of years, causing it to break down overtime. At Kafka Granite, we not only offer a variety of colors of naturally decomposing granite, but we also offer over 40 different colors of crushed quarry rock as well as recycled materials to very carefully mimic the composition of DG.
You can trust that our decomposed granite and crushed stone is entirely organic and safe for the environment. To create our Standard Pathway Mix, we combine ¼" minus gravel, with fine sand to ensure the maximum compaction, while still retaining high-drainage characteristics. This pathway mix is perfect for regular traffic paths such as:
Dog Walking Paths
Bike Trails
Nature Trails
Garden Trails
Residential Driveways
Courtyards
If you're looking to use decomposed granite for a higher traffic area, we suggest using Stabilized Pathway Mix instead to achieve a long lasting finish that further reduces mud, dust, and erosion.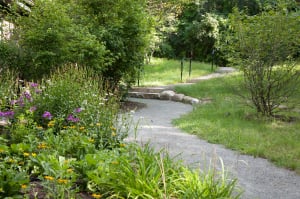 Stabilized Pathway Mix
Our Stabilized Pathway Mix offers a long-lasting finish that can withstand a high level of traffic. This mix is composed of a combination of decomposed granite, or crushed stone, and an organic stabilizing binder. The pre-blended stabilizing binder helps produce a more firm and resilient surface, while retaining the natural look and feel we love. The Stabilized Pathway Mix is designed to better resist weather and traffic erosion, unlike other standard gravel materials. The final look is natural and fits well with natural settings, which is why it is often used for:
Garden Trails
Green Roofs
Greenways
Nature Trails
Bike Paths
Corporate Walkways
Golf Cart Paths
Or anywhere that needs a more natural-looking trail system is desired
At Kafka Granite, we understand that every project has its own unique needs. That is why we offer two different types of stabilizing binders: Organic-Lock and Stabilizer Solutions. Kafka Granite's sales representatives are experts in our products and stabilizing binders so you can be sure that they will personally help you find the material and binder that is right for your project. Don't settle for anything less than the best materials and binders on the market. Don't settle for anything less than Kafka Granite.
Wax Polymer Pathway Mix
Our Wax Polymer Pathway Mix is produced by combining decomposed granite, or crushed stone, with an engineered wax polymer. The application process of this mix is done entirely without water, offering an excellent alternative to traditional paving materials. This mix is dustless and seals to create a non-permeable, natural looking finish, perfect for locations that have a much higher level of traffic or steep slopes, such as:
Driveways
Plazas
Patios
Golf Cart Paths
Hilly Track & Trail Systems
Our Wax Polymer Pathway comes pre-blended, which is one less thing for you to worry about. You'll never have to add water to the mixture in order to use it, just lay the material down, level the surface, and compact. When necessary, Wax Polymer Pathways can easily be dragged and re-compacted to bring new life to the surface or to perform minor repairs. This type of pathway mix is dustless and will never get muddy.
Trust Kafka Granite as Your Pathway Material Solutions
Our representatives are here to help you find the right pathway material for your project. So why choose Kafka Granite?
We provide quality customer service and our representatives are experts in both our products and pathway projects.
Our materials are of the highest quality and provide a beautiful, long-lasting, and natural-looking finish.
We have a variety of pathway materials to choose from that will give you the final look and durability you desire.
And of course, because Kafka Granite has been around since 1979, so you know that we provide lasting value!