We at Kafka Granite make an incredible amount of pathway material each year. Our standard, stabilized, and wax polymer pathway material options are perfect for long and winding paths through public parks, woodsy bike trails, and even golf courses. While we know our decomposed granite makes for an excellent walking, biking, or golf-carting path, we also know it's good for a few unexpected uses.
Traditionally, clients come to Kafka Granite to find the perfect aggregate blend for any number of diverse projects. And with over 50 color varieties, and a custom crushing facility, we are able to meet the needs of even the most challenging of projects. Yet we do get the occasional unusual project, but we know that every project is unique and has its own special needs and demands. That's why we offer standard, stabilized, and wax polymer pathway mixtures.
Standard Decomposed Granite Pathways
Standard DG pathways are all natural solutions to your walkway needs. Standard pathways perform better than conventional gravel pathways as they create a firmer surface while remaining natural and allowing water to permeate through. A standard pathway is ideal of low traffic, outdoor walkways, and spaces.
Stabilized Decomposed Granite Pathways
For commercial applications or in higher traffic areas, a stabilized pathway mix is the more suitable option for most. The Kafka Granite stabilized pathway mix is comprised of decomposed granite or crushed stone blended with a stabilizing binder. It's this combination that binds and locks the pathway mix to provide a durable, permeable, and natural aggregate surface. A stabilized pathway resists the erosive effects of weather and traffic better than traditional gravels or a standard pathway mix, making it a great option for areas that receive heavy rain or snow. Stabilized pathway mixtures are ideal for firmer outdoor pathways that can withstand heavier traffic but still provide a natural look.
Wax Polymer Decomposed Granite Pathways
The Kafka Granite wax polymer pathway mix is a unique alternative to pavement that offers a waterless and dustless pathway solution. With our state of the art crushing facility, we have the ability to combine the aggregate color of your choice with engineered wax polymers for a sealed, non-permeable surface that does not get muddy or dusty. This unique mixture provides solutions for extremely high traffic areas, steep slopes, and other demanding pathway projects. The pre-mixed formula can be easily installed without water, and is easy to maintain. It also allows greater creativity in design applications for architects and landscapers.
Choosing The Untrodden Path
As aforementioned, the traditional uses for our DG pathway mixtures typically include recreational trails, resort walkways, and corporate pathways. But we always love assisting landscape architects and contractors create something out of the ordinary with any of our DG pathway mixtures. Next time you have one of these projects lingering on your to-do list, consider using one of Kafka's decomposed granite pathway mixes!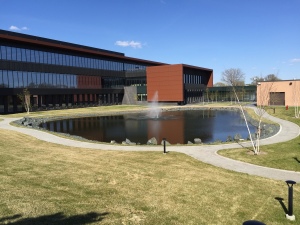 Serene Water Feature
Want to create your own babbling brook? Or perhaps you have great ideas for a fountain in your future! Whatever watery focal point you're looking to create, consider using our decomposed granite as the perfect surrounding material for your next water feature. We offer nearly 60 different colors of decomposed granite—including recycled materials—and it can complement practically any aesthetic you're craving.
When you're drawing up plans for your dream backyard pond or water feature, consider the color and material variations available to you. From vibrant and bold colors to natural hues of brown and grey, your possibilities are endless. Ensure your new pond has a serene surrounding. Adding bright pathway materials around your pond will make the entire water feature a work of art in your space.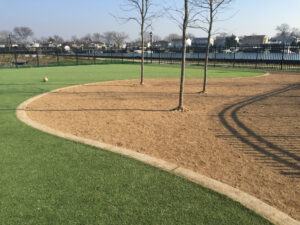 Dog Run Done Right
Creating a great dog run can be endlessly useful yet tricky. You may leave the grass in the running area as is, but over time the lawn is going to deteriorate. The continual movement of man's best friend is going to tear up the grass, make muddy pits, and look generally unpleasant. Cleaning it will become a hassle, and you could find yourself starting each summer off by laying new sod. To get out of sod purgatory, consider decomposed granite pathway materials instead of leaving the grass.
Dog runs don't have to be unsightly. Kafka's wide palette of decomposed granite colors will leave your dog run a vibrant complementary feature to your yard or an unnoticed part disguised by granite that goes unnoticed. Whatever design element you're looking to achieve with your dog run, DG can help you with it. What's more is that a dog run with a decomposed granite base won't get worn down and muddy with continuous use. Dogs' little "presents" are easy to scoop and DG allows everything to permeate into the ground. Your canine friend will be a little cleaner, too, as they won't have sand or dirt stuck to them after a good run like they would if you went with a different substrate. For the most functional and beautiful dog run on the block, check out our decomposed granite pathway materials.
Xeriscaping
You may be wondering what xeriscaping even is. While you may not have heard much about it in the past, you're sure to learn more about it in the near future. Xeriscaping is creative landscaping that has the ultimate purpose of conserving water. Once intended for drought-stricken areas, such as Arizona or other perpetually hot geographic areas, xeriscaping is trending as freshwater resources are depleting and people become more environmentally conscious.
Xeriscaping saves water, requires less maintenance, can achieve any desired landscape design, and doesn't need any sort of fertilizer or pesticide to look beautiful and up curb appeal. Using decomposed granite as your topdressing for your xeriscaping project enables water to permeate to the soil while reducing weed growth — plus, your landscape is sure to look beautiful with Kafka's color and material variety. Pick a color or multiple colors to complement or contrast your home and drought-resistant plants. While xeriscaping may seem harder than traditional landscaping using bark mulch, it really isn't. Plus, decomposed granite topdressing won't erode as much, which means you won't be replacing it every year.
Bocce Ball
While decomposed granite pathway materials make great decorative and functional surfaces, they also make great athletic surfaces! What isn't to love about that? Decomposed granite pathway material is a proven surface for bocce ball courts. It will never become muddy as water can permeate through the DG and into the ground below.
Bocce ball courts using decomposed granite as their foundation can be easily maintained and won't take long to dry after a heavy rain, which means you can go back to playing bocce as soon as the sun is shining again.
Kafka Pathway Materials for All Occasions
As it's plain to see, our decomposed granite pathway material is ideal for many situations. The durability and permeability make DG an excellent choice for much more than walkways! Plus, our seemingly never-ending list of color choices makes it possible to fulfill any landscaping design you're going for. What can you think up? We can help you find the DG that's right for you today.