While decomposed granite (DG) might not be on your radar, it's a common material you might come across in your garden, in a park, or on a pathway or walking trail through your community. It crunches under your feet at the baseball field. It can be compacted to create a beautiful, natural surface while remaining firm and permeable, and stabilizing additives can be added to further enhance these valuable qualities. It's in more places than you think, but after checking out this guide, you might have a few ideas of your own for the broad variety of uses and aesthetics decomposed granite brings to the table.
What Is Decomposed Granite?
Granite is the most common igneous rock (rocks formed through the cooling and solidification of magma or lava) on Earth. In the case of granite, it originally crystallizes below Earth's surface, where its slow cooling allows large crystals to form. You may have seen granite take shape as some of America's favorite sights like Yosemite Valley or a few guys on Mount Rushmore. Granite has also been mined and used for daily applications for thousands of years, from ancient hand tools to modern-day countertops.
Granite is made up of the following minerals:
Feldspar: rock-forming mineral, most abundant mineral in Earth's crust

Quartz: second most abundant mineral in Earth's crust

Micas: silicate minerals
Decomposed granite is the completely natural derivative of granite. When granite erodes and endures weathering over time, it easily starts flaking and crumbling away from its parent source. This decomposed granite crumbles into various sizes of particles and can be further crushed and screened to specific sizes for different project needs. Granite weathers into decomposed granite in part because one of its components, feldspar, chemically weathers into a clay mineral called kaolin, which, when exposed to more water, further deteriorates.
Where Can You Find Decomposed Granite?
Crushed decomposed granite is produced by more than 100 quarries throughout various regions around the United States. Because of the varying levels of chemical composition around the U.S. and Canada, quarries in different regions will produce DG of different colors. In Kafka Granite's home turf, for example, vibrant reds, browns, and golds are most prominent. Other regions may be known for their tans or greys. 
Mining Decomposed Granite
Decomposed granite is usually gathered from a quarry or, in Kafka Granite's case, multiple quarries. Wisconsin, where Kafka is headquartered, is teeming with quarries as a reminder of glacial movement after the Ice Age. Quarries may have different methods of acquiring the rock from the land, but decomposed granite is most commonly dug up like soil. Once excavated, the next step for the granite is getting sent through the screening process.
Kafka Granite hones state-of-the-art crushing and screening technology, which adds impeccable customization to your project or needs. Decomposed granite formations are naturally fragile due to their weathering (which is what makes it a decomposed granite). The fragile nature of true DG renders it somewhat easier to acquire than solid slabs of stone, and therefore, more economically and environmentally friendly to mine.
Crushed Granite
Because of the demand for DG in a variety of colors, Kafka Granite also crushes natural stone to mimic the qualities of decomposed granite, and therefore Kafka Granite is able to offer more than 40 different colors—a rare offering by most suppliers. Our natural decomposed granite and crushed stone alternatives are crushed and screened to size and can be used interchangeably for decorative and practical applications.
What Is Decomposed Granite Used For?
Many would assume that granite and all of its derivatives are primarily used for countertops and architecture, but you may be surprised to hear that once granite has been transformed into decomposed granite, its applications take on a multitude of uses. Despite its name, decomposed granite is still very strong. In fact, DG is harder than marble, and its unique composition allows it to compact firmly for patios, ballparks, driveways, pathways and trail systems, and landscapes, or for more high-traffic applications such as roads, while maintaining drainage characteristics not found in most other hardscape surfaces.
Kafka Granite is an industry leader in DG and offers both standard, stabilized, and polymeric wax decomposed granite mixtures. These innovative mixtures are comprised of various colors of granite, quartz, marble, and in some cases, recycled materials such as porcelain. Thanks to the care we take in creating attainable, eco-friendly products, Kafka Granite has been able to assist many designers and architects receive LEED and SITES Certifications. Decomposed granite is a versatile and robust material that can be used in everything from the trails and Erin Hills Golf Course to the Downtown East Commons at the U.S. Bank Stadium.
How Can You Stabilize Granite Aggregate?
Sometimes, DG alone just isn't right for your project. You may require a product that offers more stability and durability. Your pathway might need to be able to withstand heavier traffic, or your ballyard may need the moisture-retaining properties of an organic binder to minimize dust and mud. Kafka offers several crushed granite mixes that have been engineered to support high traffic areas, such as our stabilized and wax polymer pathway mixtures.
Whatever the reason, crushed granite can be stabilized with natural binders such as Organic-Lock and Stabilizer Solutions. These binders help create a durable surface that resists the erosive powers of weather or heavy traffic—all while maintaining the natural aesthetic you may have been going for in the first place. This means stabilized decomposed granite is an excellent alternative to obtrusive or less-natural looking asphalt or concrete pathways, driveways, etc. while still remaining permeable.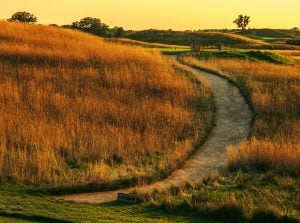 For the highest level of erosion resistance and durability, the Kafka Granite wax polymer pathway mixtures is an optimal solution. This hearty mixture can withstand intense erosion and be laid on the steepest of hills, due to its completely sealed, impermeable surface. However, this surface yet retains a natural aesthetic and can be easily maintained and manicured over time, unlike traditional hardscape materials.
Where Can You Buy Decomposed Granite?
Decomposed granite can be purchased in a variety of ways. Depending on the size and scale of your project, we'll be able to assist you with finding your ideal decomposed granite mixture. It is usually easier for smaller-scaled operations to source our aggregate mixtures from a member of our expansive dealer network. With dealers spread out all over the Midwest, finding a Kafka Granite supplier near your next project is easy.
When it comes to large-scale projects, we most commonly assist contractors, architects, and designers by providing direct quotes for their architecturally specified projects. With a versatile portfolio comprising standard, stabilized, and wax polymer pathway mixes, we can help any project find its ideal pathway mixture.
The Price of Decomposed Granite
If you're preparing to source materials for a project, you'll be wondering how much decomposed granite actually costs. It's worth noting that DG is an excellent, cost-effective alternative to cement or concrete pathways and driveways. But the short answer to the question is that the price of this material can vary greatly, due to the variety of DG available. Factors like size, color, market price, shipping, and whether or not the aggregate needs to be stabilized will affect the ultimate price of the product. 
Before you begin your search for the right material, hone in on the key features that you will need, such as color and the amount of traffic or weather the product will need to withstand. Ask yourself the following questions: 
How much area do I have to cover?

Does it have to withstand vehicular traffic, or just foot traffic?

What color DG do I want?

Should it be standard, stabilized, or wax polymer?

What is the cost to ship it?
How Is the Quality of Decomposed Granite Products Maintained?
If you find yourself in need of decomposed granite or crushed granite, you'll want to ensure that you're getting the best possible product for your project. Each of Kafka's pathway products must meet certain specifications, the most important of which has to do with gradation. A sieve analysis is used to guarantee that every shipment of product contains the right proportions of stone sizes. For instance, the specifications for one pathway mix might require that 80 percent of the stones in a mix be smaller than 3/16 inch, 65 percent be smaller than ⅛ inch, and so on.
If you choose a product that does not meet specifications or other quality standards, you run the risk of installing a low-quality product. Pathway mixes that don't contain the proper gradation, for example, may wind up failing because they do not compact properly, or the binder doesn't adhere to the stone properly. When in doubt, be sure that your DG provider can provide an extensive overview of a product's specifications, including sieve analysis, ADA compliance report (if applicable), and installation and maintenance instructions. 
How Can Decomposed Granite Contribute to Sustainable Efforts?
There are several ways in which decomposed granite can contribute to your LEED certification efforts. By earning points to be Leadership in Energy & Environmental Design certified, your project can reach varying levels of sustainability. Striving to build a green, eco-friendly project will benefit the environment for years to come.
LEED certification points can be acquired through using decomposed granite in the following ways:
Compacted decomposed granite is a permeable material. Permeable surfaces lend themselves to aiding the soil and returning water to the water table. Permeable surfaces are also beneficial in that they won't collect water and develop standing pools, which could lead to pests or other detrimental side effects.

Depending on where the granite comes from for your specific project, using a locally produced decomposed granite could earn you regional priority LEED certification points.

Since decomposed granite is a natural product, as well as organic stabilizers which can be used in conjunction with decomposed granite, LEED points can be earned for using this naturally occurring and abundant decorative material.

Since Kafka has the ability to crush recycled materials for use as decomposed granite, using Recycled Porcelain or Recycled Copper Slag, the recycled content can contribute to achieving LEED certifcation
DG Products From Kafka Granite
When you get in touch directly with Kafka, you'll be able to speak with one of our natural stone pros who can help you determine exactly what you need for your specific project. You can also receive samples and ask questions before making a final decision. Who knows? You might discover that a stabilized or wax polymer pathway material better suits your needs, or one of our many colors of aggregates might catch your eye and take your project in an entirely new direction. The sky is truly the limit with DG and other natural stone materials, and we look forward to helping you explore the possibilities.