Long gone are the days of creating a beautiful landscaping for only aesthetic purposes. Landscape architects today are constantly on the lookout for how the land can serve some utility purposes as well. As masters in their field, landscape architects can plan and create an environment that is both beautiful as well as functional. The trend to "go green" isn't going away anytime soon.
The surge in environmental consciousness is leading designers and architects to find ways to reduce carbon footprints, utilize environmentally friendly or recycled materials, and minimize a project's environmental impact whenever possible. Many companies, including Kafka Granite, are creating building materials in greener ways than ever before, which is why we support these efforts where we can. One way to make your commercial landscaping work for the environment is to use it as part of your project's water management. A useful and beautiful landscape for your project is very possible through research, planning and using the power of permeability.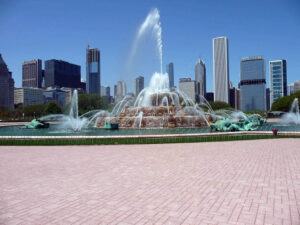 What Does Water Management Mean?
The water that lands on the ground during a rainfall might not ever cross your mind again once it's over and dried up. However, consider the fact that one inch of rainwater hitting one acre of asphalt over one hour yields 27,000 gallons of water. In ideal conditions, this rainwater would easily flow into your city's sewers and be on its way to your water treatment facility. However, too often do these systems become overwhelmed by heavy storms and debris, causing flooding and even sewage backups. This causes pollutants such as oils and trash to sit stagnant or flow into public waters, neither of which help the environment.
Furthermore, an incredible amount of water is used for the outdoors, especially in regions that experience droughts or very hot, drier seasons. The amount of water used to preserve landscapes is staggering. For example, in North Carolina the average amount of water used for the outdoors is 20–30 percent of a facility's total water use annually. For environments that have notoriously hotter weather, this water consumption for the sake of lush lawns could be even higher.
So what exactly does water management mean when it comes to landscape designs and function? Best Management Practices (BMPs) for landscape water conservation range from plant selection to irrigation in order to reduce landscape water use. Adopting BMPs for your next landscape design project will help with financial savings and environmental efforts.
How to Start Planning a Water-efficient Landscape
Oftentimes, commercial and industrial workplaces sit across large plots of land. This vast area is the perfect opportunity to take advantage of rainwater and save on using water for outdoor purposes. Before you start implementing a landscape design, you need to consider what the land will be used for.
Ask yourself the following questions before you begin to cultivate your design. When you can answer the questions below then you know that you're ready to begin creating your landscaping vision. If you are in doubt about the legalities and protections that are in place at the site of your next build we recommend contacting your local government or Department of Natural Resources to answer any uncertainties that arise while reviewing the questions below.
What is the natural habitat of the area?
What are some native plants and animals currently residing on or nearby the project?
What will the pedestrian or vehicular traffic be like once completed? Is this a recreational area?
Will I need automatic irrigation systems?
How will I create a suitable hydrozone for the space?
What type of ground cover should I be utilizing?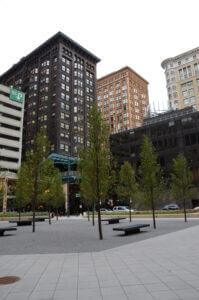 Keep Hard Surfaces in Mind: Reduce Stormwater Runoff
Optimal landscape architecture isn't restricted to lush green surfaces and garden beds. Creating the best landscape for water management also means thinking about the hard surfaces in your project, i.e., driveways, parking lots, sidewalks, and courtyards. When these surfaces are made of nonporous material, such as nonporous asphalt and concrete, this creates unwanted stormwater runoff, which draws pollutants to waterways.
Ensuring you use porous materials that provide ample drainage is a key factor to achieving ideal water management with your landscaping. Decomposed granite provides stable, compact surfaces while still allowing rainwater to pass through. Consider a combination of permeable pavers and permeable paver joint infill for large expanses, such as parking lots. Kafka Granite offers a large variety of durable granite and quartz aggregates for permeable paver grit that can withstand intense freeze/thaw cycles. These aggregates emphasize the aesthetic goals of your landscape design as well as provide a way for hard-surfaced areas to provide even more water management opportunities.
Kafka Can Help Your Landscape Start Saving Water
A water management plan integrated in your landscape design can help your project environmentally and financially. Through planning a tight irrigation schedule, creating hydrozones, and implementing permeable surfaces wherever possible, you'll be conserving water and time all while helping the environment. Reducing stormwater runoff helps ease the stress on sewer systems, reduces sewage backups and flooding, and alleviates the amount of pollutants and debris running into waterways. Interested in permeable solutions for your landscape? Let Kafka Granite help you create a beautiful and eco-friendly space—send us a message or call today for your next project!