Natural stone gives both commercial and residential projects a highly sought-after, rugged look that has stood the test of time. Where trends fall out of fashion as the seasons change, natural stone sticks around. But all too often, designers and builders have to choose cheaper or more readily available options like manufactured stone for their projects.
Fortunately, natural thin stone veneer offers an attractive alternative. This versatile specialty building stone adds the same look of natural full stone veneer while lowering shipping and installation costs dramatically. This type of building stone has multiple uses and can complement a variety of interior and exterior projects—in fact, there are so many possible applications for natural stone veneer that it can be difficult to narrow down your options and determine exactly where you should use this material. 
If you're looking for some natural stone veneer inspiration, you've come to the right place. Kafka Granite has spent decades sourcing natural stone from quarries across the continent. Our selection of natural thin stone veneer offers the perfect color and cut for every need, and we're happy to help you figure out which option is right for your unique project. Here's a look at some of the potential uses for natural thin stone veneer.
The Benefits of Utilizing Thin Stone Veneer
Thin stone veneer can range in thickness from ¾ inches to 1½ inches. This specification results in a product that weighs less than 15 pounds per square foot. Not only does this cut down significantly on shipping prices when compared to full veneer, but it also impacts installation costs. Due to its light weight, thin stone veneer doesn't require footing or other supports, which makes the installation process simpler and often quicker than laying full veneer. 
Natural stone veneer can complement a wide variety of projects—both within a building or home and out. But while thin stone veneer is ideal for use in both commercial and residential projects, Kafka Granite does recommend hiring a professional stonemason to install this specialty product. He or she will be able to ensure that your natural stone materials are installed properly.
Applications of Natural Stone Veneer 
The sky is truly the limit when it comes to the use of natural thin stone veneer. This specialty building stone is a striking addition to any non-structural project, whether it be a restaurant building facade or an indoor waterfall. Let's take a look at some of the many possible applications of thin stone veneer.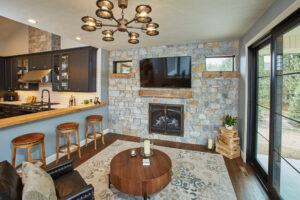 Interior Thin Stone Veneer Projects
Natural thin stone veneer is an excellent option for incorporating the beautiful look of natural stone into an interior project. Because the product is relatively lightweight, thin stone veneer does not require special footing and can be easily installed for a variety of non-structural features, from accent walls to kitchen backsplashes. 

Interior Accent Walls
Whether you're decking out your home in natural stone or just hoping to create a single accent wall, thin stone veneer will do the trick. Because quarried stone varies depending on its source, you'll find a wide variety of colors available—and one is sure to match your vision.
Fireplace Projects
Indoor fireplaces can add a cozy feel to any room, depending on how they're built and decorated. Natural stone veneer can turn a plain fireplace facade into an eye-catching centerpiece.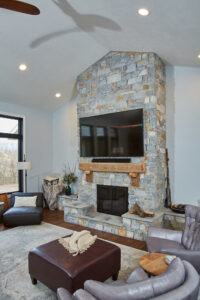 Kitchen Backsplashes
Backsplashes might not seem like an obvious choice for thin stone veneer, but they present a unique opportunity to showcase the beautiful, natural colors of these products.
Interior Accent Finishes
Perhaps you're working within a smaller space or simply don't want to use natural stone for an entire project. You can still incorporate the lovely look of natural stone with the help of thin stone veneer panels and other products. Our wide variety of cuts and colors makes finding the right accent for your project a breeze.
Exterior Uses for Thin Stone Veneer
Natural thin stone veneer also stands up extremely well in the outdoors. When installed with care and maintained correctly, this specialty building stone will retain its integrity and keep your project looking striking for years to come. 
But remember—if you are planning to utilize natural thin stone veneer in your exterior project, the surface area that will be in contact with the natural thin stone veneer will first need to be waterproofed before this specialty product can be installed.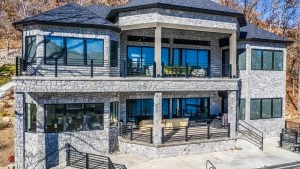 Exterior Siding and Columns
Natural thin stone veneer is an ideal material for exterior or partial wall siding, as well as exterior columns. The material holds up extremely well to the elements, including harsh winds, rain, and snow. Whether you're looking to add some old-world country charm to your home or create a clean, contemporary feel for the front wall of a business, you'll be able to find the perfect blend amongst our numerous cuts and colors.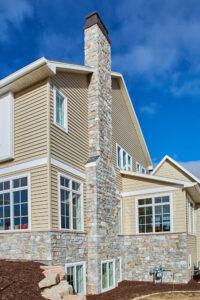 Chimney Surfacing
Natural stone can look just as handsome on your exterior chimney as it can adorning your fireplace—even as time and the elements weather the product. In contrast to artificial or manufactured stone, which can fade over time, natural stone will retain its color and integrity, giving you a chimney surface or other exterior project that lasts.
Natural Stone Veneer From Kafka Granite
Over the past 40 years, Kafka Granite has distinguished itself as an industry leader in specialty aggregates, and we're proud to extend that same level of excellence, dedication, and innovation to our specialty masonry stone products. Reach out today to speak to a knowledgeable sales representative. We look forward to helping you incorporate natural stone into your project.