Since 2000, LEED Certification has served as the industry standard for measuring a building's environmental sustainability. LEED, standing for Leadership in Energy and Environmental Design, is a way to establish and recognize a building as a "green" or eco-friendly structure or project.
Kafka Granite offers an incredible amount of products that could help your new or old construction project get acknowledged as green and receive one of four levels of LEED certification: certified, silver, gold or platinum.
From energy-efficient options such as white roofing aggregates to recycled materials like crushed porcelain or glass, Kafka offers repurposed and all-natural solutions to be used in a variety of ways. We can also help ensure architects are selecting regionally specific aggregate in order to achieve Regional Priority Credits. Since some of Kafka's products are sourced from around the nation, it's critical to ensure you're getting materials that fulfill "geographically specific environmental priorities" in order to garner LEED credit for RPCs. To learn about all the ways Kafka materials can be used in your project and get it closer to LEED certification, talk to us today.
Why should your project be LEED-certified?
LEED certification will reap different incentives depending on which state your project is in. Not only will an impressively sustainable or eco-conscious build garner media attention or community support from those who appreciate green efforts, but they could also receive tax credits or fee reductions/waivers among other things.
Eight different green aspects of a building are taken into account:
Sustainable Sites

Location and Transportation

Water Efficiency

Energy and Atmosphere

Materials and Resources

Indoor Environmental Quality

Innovation

Regional Priority
Depending on the type of the project, there are 110–136 credits that can be earned. The more credits earned (the more criteria fulfilled) will translate to a higher LEED-certification level: 40–49 credits for certified, 50–59 credits for silver, 60–79 credits for gold and more than 80 credits to achieve platinum certification.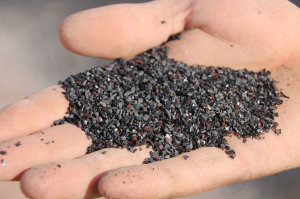 "Using more green materials, including renewable materials, recycled materials, and natural materials, is good for the building occupants and the environment." Using organic or recycled materials from Kafka Granite can earn a project more points toward a higher level of LEED certification.
Is being LEED-certified more expensive than not building with recycled/natural materials?
Aiming to build a LEED-certified project, according to this study, will only initially cost as much or slightly more than a project not building with recycled or natural materials. However, the benefits and incentives gained from LEED certification may likely outweigh or outearn the extra construction and materials costs paid up front.
By working with Kafka Granite on your next LEED-certified project, you will get the best possible natural or recycled materials — such as our expansive variety of decomposed granite, crushed aggregate, and recycled materials — to aid in your green initiative. To discuss your specific needs or potential solutions, get in touch with one of our knowledgeable experts.