Kafka Granite is the Midwest's exclusive distributor of natural thin stone veneer rock panels by Norstone. Kafka is now incredibly excited to be able to offer customers a new offering; Norstone's undeniably modern and chic new product — the Basalt 3D Panel collection.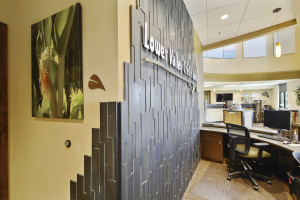 Meticulously crafted by hand, Norstone's new interlocking basalt panels are hand-assembled to precision. These panels are also the only dimensional basalt panels available in the market: Norstone's innovations add a three-dimensional facet to any design. Able to be applied in both commercial and residential settings, Basalt 3D Panels complement any modern aesthetic by lending clean lines and modern colors to any project.
The interlocking characteristic of these tiles completely eliminates the appearance of vertical seams while rendering them an easy-to-install option. Additional time-saving attributes show up in these panels' two-part finger-jointed corner system: the need to arduously miter and join corners is nonexistent.
What is Basalt?
Basalt 3D Panels are made of 100% natural stone. Also known as "lava rock," basalt is an extrusive igneous rock formed by the rapid cooling of basalt lavas at or near the earth's surface. The hues of grey and black exhibited in these tiles are a result of being untouched for millions of years. Both the Ash Grey and Ebony Basalt color options are purely basalt and purely contemporary.
Norstone Basalt 3D Panels add a chic beauty to nearly any area — from residential backsplashes and fireplaces to expansive commercial feature walls or even water displays such as towering fountains and swimming pools. These dimensional panels flawlessly interlock to exacting standards and retain the easy-to-install nature of a veneer panel system.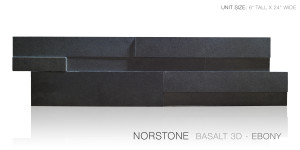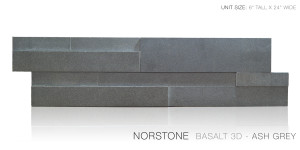 How are these Panels Installed?
Basalt 3D Panels are the essence of simplicity from appearance to installation. As an interlocking panel system, Basalt 3D Panels can be installed rapidly over prepared surfaces such as cement board, brick/block, or over a lathe and scratch coat using thinset.
Since each panel is precisely crafted to interlock into neighboring panels, there is no need to grout or mortar between individual pieces. However, as a porous stone, Basalt 3D Tiles should be coated with a water-based penetrating sealer. Depending on which sealer is chosen, different levels of sheen can be achieved, creating a truly unique look.
Kafka Granite, as the exclusive Midwest distributor of the unique and contemporary design options crafted by Norstone, can show you the vast array of stacked stone and basalt tile panels sure to complement your next project. Timeless yet contemporary, these three-dimensional basalt ledgestone panels could be the perfect addition to your space. To talk about the possibilities, give us a call today.