Investing in sustainability and eco-friendly ventures is costly. Despite the obvious and necessary environmental benefits, the sheer price tag of going green prevents many businesses from making this ecological leap. Kafka Granite, a family owned small business, has found an impressive number of ways to bear its eco-conscious muscle and help the environment despite its size.
In addition to offering decomposed granite aggregate solutions, which are an inherently environmentally friendly alternative to asphalt or concrete, Kafka Granite offers a broad portfolio of other green solutions, such as white roofs and permeable paver grit. Thinking outside of the granite box, Kafka has even teamed up with several other businesses in efforts to recycle waste product such as porcelain, glass, mirror, firebrick and slag.
Decomposed granite is a natural product and is the result of granitic rocks being weathered and eroded. Although organic stabilizing binders can be added and the aggregate is compacted, the permeability of decomposed granite aggregate perseveres. Beyond natural decomposed granite, many other eco-friendly hardscape solutions are becoming popular. In addition to supplying manufacturers with aggregate to create permeable pavers, Kafka Granite also specially produces permeable paver grit, the joint filler between the pavers.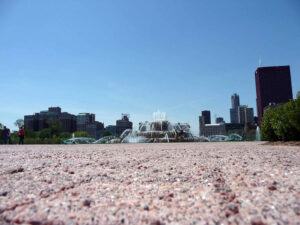 An added benefit of Kafka Granite's permeable paver grit is its ability to complement the pavers' color or design. It can be practically camouflaged or can lend itself to the aesthetics of the area while providing the appropriately sized joint filler. Using the correct size, and hardness, of aggregate between pavers ensures that joints between pavers won't become clogged and the permeability of the joints will remain optimal during its lifespan.
The incredible permeability of Kafka's aggregate prevents water runoff or unwanted flooding — instead, the water permeates the aggregate and is reabsorbed by the soil and water table below. Ancillary benefits of Kafka aggregate include its lifespan — requiring fewer replacements than alternatives.
Some of Kafka's aggregates are manufactured for other environmental causes such as white roofs. Also known as cool roofs, Kafka produces recycled porcelain and white quartz which can be applied to pre-existing rooftops using a two-part epoxy overlay. Naturally round Birchwood granite is also available for traditional rooftop ballast applications. White roofs diminish the heat island effect — the occurrence of higher temperatures in urban areas versus rural ones — exhibited by dark roofs. By reflecting the majority of the sun's rays, the ambient temperature surrounding a white roof is dramatically lower. The cooling costs of a structure with a white roof are also reduced, saving costs for homeowners, business owners, and the atmosphere.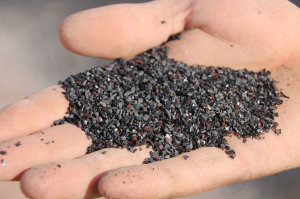 As a Wisconsin-based company, Kafka looked to native-Wisconsin businesses Wausau Tile and Kohler Corporation to join in a recycling initiative. Kohler Corporation's rejected porcelain toilets and sinks, as well as the corporation's other landfilled materials like slag and firebrick, get crushed to size and used in place of natural stone. Recently adopted was the recycling of glass screens from outdated televisions and computers, as well as two-sided mirrors. Recycled materials can be used as aggregates in precast concrete, terrazzo flooring and countertops, epoxy overlay surfacing, pathway materials and more. The smoky recycled glass serves as an impressive alternative to expensive natural quartz, while the two-sided mirror creates a unique, high-end finish to flooring and countertop products.
Using recycled and sustainable materials helps architects earn points toward LEED certification. LEED, Leadership in Energy and Environmental Design, was created by the U.S. Green Building Council and serves as third-party verification to determine whether new construction is truly green or eco-friendly. By using sustainable materials or recycled products manufactured by Kafka, designers and architects can establish themselves as leaders in green design and construction — a highly sought after quality in modern construction trends.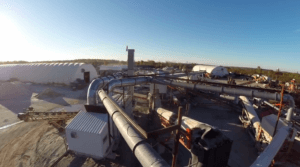 Even the byproducts of Kafka's manufacturing process are reused. Taking an eco-friendly leap forward, a state-of-the-art dust-collection system was installed at Kafka's crushing facility. A huge asset, the system winds through the crushing facility, acting like a large vacuum and collecting dust. This innovative system not only keeps otherwise wasted dust from polluting the air, but after it has been collected, it is being reused in the creation of other products such as pathway mixes.
Kafka's sustainable efforts aren't only rooted in the core of the business through the sustainable and recycled product offering, but these efforts branch into big-picture efforts to increase efficiency, reduce its carbon footprint and look for solutions to aid in a greener future. Even its less-noted efforts, like using secondhand pallets for shipping, accumulate to create a more sustainable tomorrow and serve as an example for how even small businesses can aid in the green movement.