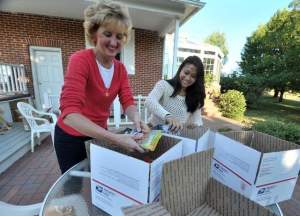 This past September, we shared a story about Betty Blume, a military mom who has been sending the comforts of home to various troops in Afghanistan. Kafka Granite has continued to cover the shipping costs of these care packages, and now Betty has asked to publicly express her gratitude in light of the holiday season. The following is a message from Betty and her husband, Larry, as well as two of the many gracious recipients currently serving in Afghanistan.
"We would like to thank Glenn and Bev Kafka of Kafka Granite for their generous support to our troops serving in Afghanistan. Their support has made it possible for us to give the troops a meaningful Thanksgiving and hopefully an enjoyable Christmas. To date we have been able to send approximately 125 care packages. We are in the spirit of the season! Happiness doesn't result from what we get, but from what we give. Thank you for giving!" –Betty and Larry Blume
"Thank you for every single package we have received! We love you and the community that supports us!" –PFC Gage Andrews
"God Bless your family and your community as you support us. It is not in vain and we are very appreciative." –SSG Michael Lane
Kafka Granite will continue supporting this good cause and we encourage you to join us. Please contact us if you are interested in spreading holiday cheer to our soldiers overseas!