(cover photo courtesy of Unilock)
Decorative precast concrete is a superior option for creating practical accents to your architectural or landscape design. Through the use of the incredible variety of precast concrete products, you can incorporate custom fixtures including planters, tables, columns, chairs, light poles, water fountains and more into your design that will last a lifetime. The variety of precast concrete pavers allow for a durable and incredibly decorative hardscape for your unique design. Permeable pavers have become incredibly popular, blending the decorative and high-end finish of decorative precast pavers with the eco-friendly benefits of stormwater runoff control. Nearly any paver or amenity you can dream of, decorative precast concrete can create to add just the right touch to your project.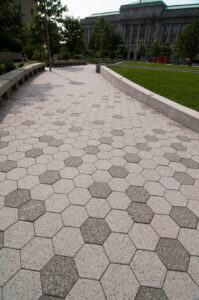 Kafka Granite can supply crushed granite, marble, quartz and recycled materials for use in decorative concrete fixtures. Whether you're planning amenities for a restaurant, hotel, office building, plaza, park, government building or university, or designing a new public space with a beautiful, yet permeable, hardscape, Kafka Granite supplies aggregates to many of the highest quality producers of decorative precast concrete products, including Wausau Tile, Unilock, Oldcastle, and more. The combination of high-quality raw materials and the exceptional craftsmanship of our customers calls for the best selection of decorative precast concrete products. When seeking durable outdoor solutions that are both functional and beautiful, precast concrete could be your solution.
What Is Decorative Precast Concrete?
Before 1950, precast concrete was a relatively unknown building material. When the Walnut Lane Memorial Bridge in Philadelphia, Pennsylvania finally opened to carry traffic across the Monoshone Creek, it was the first time such a structure had been built using prestressed concrete girders. The implementation of precast elements made this first-of-its-kind bridge 30 percent cheaper than a regular concrete arch bridge design. The success of the Walnut Lane Bridge caused precast concrete to quickly become the trend for quickly constructing a variety of structures across the nation. Today you would be hard-pressed to look across a city and not see a variety of buildings utilizing precast concrete wall panels dotting the skyline.
Standard concrete applications are poured and cured on the jobsite. Precast concrete, in contrast, is poured off-site and brought to the site once cured, which is what adds the "precast" element to the name. It's a way to work around potential job site restrictions that disable you from creating a feature on-site, as well as achieve complex customizations you wouldn't have been able to otherwise.
Precast concrete can serve as architectural elements, such as walls, ramps and beams, as well as decorative features and amenities. These concrete structures can take on nearly specification you may have for your project. Since they can be produced off-site, multiple phases can be occurring for a project at the same time. Precast concrete created off-site doesn't have to wait on the progress of on-site elements, allowing both to be crafted simultaneously. Once completed, each piece can be quickly assembled, cutting down on costs overall.
Decorative precast concrete enhance the practicality and durability of concrete products with a variety decorative finishes. These products offer a seemingly endless selection of designs, colors, finishes and details for whatever your project calls for, whether it be custom interlocking pavers or durable amenities such as benches, trash bins, planters—or even precast basketball hoop stands. Kafka Granite manufactures crushed granite, marble, quartz and recycled materials, like porcelain and copper slag, in its state-of-the-art crushing facility in the heart of Wisconsin. With a palette of more than 50 colors to choose from across the variety of aggregate materials, customization is inevitable. Many of Kafka Granite's decorative precast concrete customers source a variety of aggregates in the production of their standard products, but also come to Kafka Granite for the best selection of crushed stone for custom designs.
Kafka crushes the natural stone or recycled materials to exact specifications—whatever size you may need—and gets to crafting the high-quality pavers or amenities you need to add the perfect unique flair to your project. Through a close partnerships with our customers, we are able to help provide you with one-of-a-kind elements.
Why You Choose Decorative Precast Elements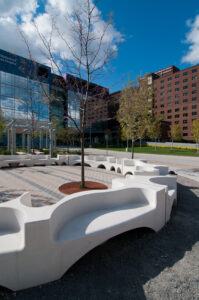 When the color variety of Kafka aggregates and manufactured sand is added to the exposed faces of precast pavers and amenities, your space suddenly goes from bland to memorable. You don't always have to count on a flourishing garden or piece of art to bring life to a space when you could achieve stunning looks through the functional elements, too.
The veritable rainbow of colors you have to choose from can complement any space you're constructing or designing. Flex your environmental muscles and choose the unique aesthetic quality of recycled porcelain or copper slag. When you dovetail precast concrete elements into your project, options are seemingly endless.
Don't Forget to Look Down
Decorative precast designs go beyond large fixtures. Decorative precast concrete elements can include sidewalks, driveways, courtyards, and patios, too. Adding color and style variety to sidewalks, landings and stairway caps can bring a comprehensive beauty to an entire design. Considering every element is what will make your space truly stand out.
Transform your Decorative Precast Concrete Products with Kafka Granite
Ditch the bland amenities you think you might be stuck with. You don't want to invest in something that is obtrusive to your design or simply isn't durable. The addition of Kafka aggregates to precast concrete products not only adds a beautiful, decorative finish – but also strength and durability, which means the features you add will be there for the long haul.
Kafka stands by high-quality products and craftsmanship. Our quality checks ensure consistently produced aggregate for the production of decorative precast pavers and amenities. We also work closely with our Decorative Precast Concrete customers to help customize pieces, whether that calls for special colors and sizing, or incorporating recycled content.
If you're a landscape architect looking for just the right solution, consider the possibilities of decorative precast concrete products. Get the high-quality products you need with all the decorative finish you crave. Necessary amenities such as trash bins or snuffers don't need to be unsightly. Instead, create a thoughtful look so snuffers don't distract from your overall design. Decorative precast concrete solutions will complete your project in the best way possible.
To be put in touch with several quality decorative precast concrete producers that utilize Kafka aggregates in their mix designs, call or send us a message today. Don't let your next project finish without the durability, strength and aesthetic benefits of precast concrete solutions.