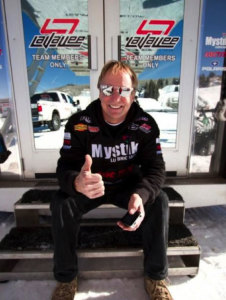 It's that time of year. Soon action sports athletes from around the world will flock to Aspen, Colorado for the 2013 Winter X-Games, held January 24-27. Glenn Kafka, founder of Kafka Granite, will also be headed to Aspen as co-owner and crew chief of Team LaVallee. Team LaVallee will have an exciting schedule, as they are the only team to be competing in all four snowmobile disciplines. Last year, Snocross had been omitted from the Winter X-Games schedule for the first time in 14 years, along with one of the newer snowmobile events called Speed and Style. This year, by popular demand, all four disciplines are back, allowing the opportunity for all of Team LaVallee's athletes to compete.
Levi LaVallee, who has just been named the 19th most influential person in action sports by ESPN, will be the only snowmobile athlete competing in all four events: Snocross, Speed and Style, Freestyle, and Best Trick. LaVallee has four X-Games gold medals, is the first to attempt a double backflip on a snowmobile, and holds the world record distance jump at 412 feet. Kyle Pallin, Team LaVallee's newest racer, will be competing in Snocross for his second time at Winter X. Pallin placed 4th in his first Winter X-Games appearance. Jake Scott, the team's youngest rider, will be serving as the first alternate for Polaris in the Snocross event.
Help us cheer on Team LaVallee! Check out the ESPN TV Listing to watch from home, and follow Team LaVallee on Facebook or Twitter to stay up-to-date on all the action!
Kafka Granite sponsors Team LaVallee, along with Mystik Lubricants, Loctite, Polaris, Parts Unlimited, Arctiva, Fox Shox, Earth, Inc., Woody's, Kafka Conveyors, and Stratford Sign Company.