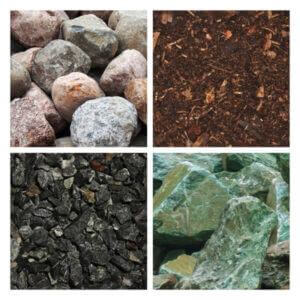 It's that time of year! Spring is just around the corner and before you know it landscapers will be breaking ground on new and exciting projects. While there is still a white blanket of snow covering most of our lawns, homeowners are starting to plan for maintenance or new renovations of their yards, gardens, and outdoor living quarters. When the ground thaws, be prepared for the springtime rush with Kafka Granite landscape stone, boulders, and mulch!
Kafka Granite offers one of the most extensive color palettes in landscape stone. With crushed stone and river rock available in roughly 20 colors and several sizes, Kafka Granite is bound to have just what your customer is looking for, whether it be for homes, commercial properties, parks, or gardens. Looking for something new for the 2013 season? Kafka Granite has added several new colors last year such as Twilight Black, Shamrock Green, and Sugar & Spice, just to name a few.
To complement the line of landscape stone, Kafka Granite also offers Decorative Rip Rap. These raw, fractured, natural colored boulders vary in size from 4-12 inch pieces all the way up to over four feet in diameter. These decorative rip rap pieces are practical for retaining walls and water features, but also make for uniquely beautiful accent pieces.
Kafka Granite's Wisconsin Granite Cobbles and Boulders make for some of the most beautifully colored, rounded boulders around. These glacially deposited, smooth, multi-colored boulders are available in a wide range of sizes from 3-6 inch cobbles all the way up to massive 5 foot accent pieces. These boulders are perfect solution for retaining walls, ponds, man-made water falls, and more.
While Kafka Granite is a premier source for landscape stone and boulders, don't forget about the mulch! Since starting a new venture in wood waste recycling, Kafka Granite now offers pine bark available in two sizes: 3/8-1 1/2″ flake and 3/8″ minus.
Make Kafka Granite your one-stop shop! Stock up now on all your landscape stone, boulders, and mulch. Contact one of our knowledgable sales representatives today for more information, samples, or a competitive quote!