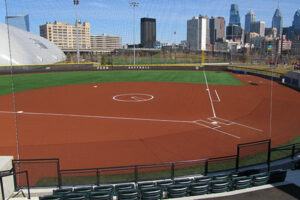 Play Ball, Rain or Shine
Kafka Granite is perfecting the art of ball yard mixes. Offering Standard, Stabilized and Hilltopper* varieties, Kafka understands the fluctuating needs of every ball field's infield and warning track.
Comprised of decomposed granite, Kafka's infield and warning track mixes offer a premium ball-playing experience. While most infields use a blend of sand, silt and clay, Kafka realizes the vast advantages of decomposed granite when it comes to player and fan experience. Whether it's permeability of the infield or its ability to act consistently with hopping balls or skidding players, decomposed granite offers more than other typical infield mixes.
There's a fine balance when it comes to creating an infield that drains well, yet remains compact enough to provide a firm, stable playing surface. Kafka Granite utilizes a decomposed granite-based infield mix, which reacts better to rain and gameplay than merely compacted clay, sand, or limestone.
Kafka Granite's decomposed granite is crushed and screened to size and in some instances, pre-blended with either an organic stabilizing binder or an engineered wax polymer for the most cutting-edge technology in ball fields. Continue reading for a brief summary of our infield options and to learn what sets them apart from your everyday muddy and dusty fields.
Standard Topdressing
Kafka Granite's Burma Red Standard Topdressing mix is a premium, yet cost-effective solution for existing infields. Only ¼" to ½" of depth is needed to cover existing infield material to provide the safe footing, smooth sliding and consistent ball hops known to come standard with Kafka infields.
Stabilized Infield Mix
The Burma Red Stabilized Infield Mix combines the best of two worlds: Kafka's decomposed granite infield mix with Stabilizer Solutions Organic Binder. Stabilizer Solutions' proprietary natural binder coupled with Kafka's decomposed granite infield mix provides enhanced stability and footing with increased cohesion while maintaining permeability. With the ability to hold 12 times its weight in water and release moisture when the infield runs dry, Burma Red Stabilized Infield Mix's ideal moisture reduces mud and dust, provides preferred cushion and flexibility, and requires less maintenance and preparation — which means more time to play ball!
Hilltopper* Infield Mix
Comprised of Kafka Granite's Standard Burma Red Mix, the Burma Red Hilltopper* Infield Mix also incorporates a water-shedding wax polymer proprietary to Stabilizer Solutions. The cutting edge of infield technology comes from Kafka Granite; the wax polymer combined with the tried-and-true decomposed granite infield mix makes it possible to continue gameplay minutes after a storm has passed, or even during the rain if you wish! As soon as the clouds roll out and the rain stops pouring, this infield mix provides players with a waterless, mudless and dustless playing surface while providing fans with less waiting and more gameplay.
Hilltopper* is a registered trademark of Stabilizer Solutions. Kafka Granite no longer utilizes Hilltopper* in the composition of their ballfield mixes.