Organic-Lock has long been viewed as the strongest organic binder on the market today. At Kafka Granite, we've been partnering with Organic-Lock for years to create our stabilized aggregate pathway materials. Thanks to our partnership with Organic-Lock we're able to offer durable pathway materials that can hold up to anything from busy parks to torrential rains.
Organic-Lock is designed to stabilized aggregate surfaces, making it the perfect binding agent to be added to our unique blends. Through this combination, we've been able to offer products that can result in natural-looking, permeable surfaces that can hold up to extreme conditions. Today we're walking through how to properly install our pre-blended Organic-Lock aggregates on your job site.
What is Organic-Lock?
Organic-Lock is a powdered binder made from renewable resources. It is specifically designed to be blended with crushed aggregate to create natural looking pathways and surfaces. But how does it work?
First, the binder locks the aggregate in place to minimize erosion and worksite maintenance; saving you time and money in the long run. When it rains or your pathways become saturated by moisture of any kind, the liquid permeates the aggregate where it then comes into contact with the Organic-Lock binder. When this happens, the moisture and Organic-Lock binder together turn into a gel that coats each piece of the aggregate. The gel then expands in size and works like glue to hold the pathway together. This process greatly reduces erosion and keeps your finished pathway in one piece longer. This video contains some great illustrations to further highlight how this unique mixture works.
Preinstallation
Your pre-blended aggregate and Organic-Lock mixture will be supplied by Kafka Granite. When prepping your installation surface, you'll need to focus on moisture content and optimal site preparation. Your delivered mixture will always have room to improve, so we recommend using the snowball or step test to find the ideal mixture of water and aggregate for your batch of material. Ideally, you want your mixture to have an 8-10% moisture content. Here's how to use those two methods to get your aggregate to this magical moisture level.
The Snowball Test:
When first assessing your material, scoop up a handful in one hand. Try to compact the material into a snowball shape. If it crumbles and can't hold its form then you need to continue adding moisture. If you can compact it into a ball but it has a noticeable wet sheen then your moisture content is too high.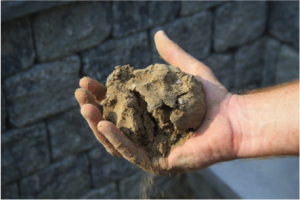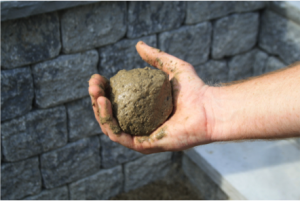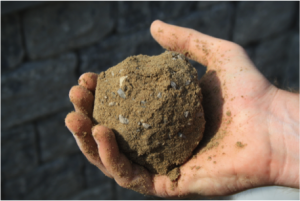 The Step Test:
In place of the snowball test, you can use the step test to determine your mixture's readiness. Once again, form a rough ball, then place the ball on the ground and step on it. If your mixture has too much moisture it will have a wet sheen to it, if it's too dry it won't be able to hold its shape. An ideal mixture should show a perfect impression of your boot's tread while holding its shape without any wet sheen visible.
If your mixture is showing a wet sheen the best thing you can do is add additional dry material until you can complete a successful snowball or step test. Once you have reached the ideal moisture content for your mixture, replicate your exact measurements for the rest of your material.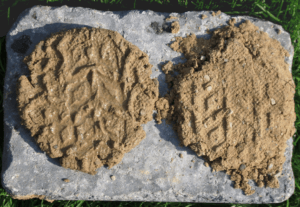 Installation
The most important aspects of a successful installation of our stabilized mixture are subgrade and base construction, surface watershed management, spreading, compaction, and installation completion. This video will walk you through successfully executing each of these five steps to ensure an astounding finished product.  
The installation process for our stabilized mixture is simple. Our products come with individualized product installation specifications, so there will be no guesswork when it comes to the amount of subgrade you need, how compacted your base should be, or what type of base you should use depending on your region's DOT recommended crushed granular road base.

This portion of our video guide will also help you to assess potential issues for your pathway system; such as sprinkler heads, uneven terrain, a dense canopy cover, and more. We'll equip you with all of the installation guidelines and best practices, such as maximum slope, that you'll need to ensure that your pathway is installed correctly the first time. Saving you time and money by eliminating costly do-overs. If you have any further questions about our stabilized Organic-Lock products give us a call today.