Kafka Granite has always taken measures to help the environment. After all, we pride ourselves on the environmental benefits of naturally occurring decomposed granite in comparison with concrete or asphalt. Permeable paver grit, which contributes to groundwater recharge, and white roof options to reduce urban heat islands contribute to our portfolio of eco-conscious aggregates. Using sustainable materials in your next big project could give you points toward a Leadership in Energy and Environmental Design (LEED) certification.
Creating a LEED-certified project is a reflection of your project's minimal stress on the environment. It shows you've taken the environment into consideration from the design of your project to the material you used. One way to help earn LEED certification (and the trust of many earth-adoring people) is to use recycled materials as often as you can. This means using insulation from recycled jeans, rubber playground surfaces made from recycled tires, or even pathways or precast concrete fixtures made from recycled porcelain and fire brick —think outside the box for where recycled materials can be used in your project.
 1. Rejected Toilets and Sinks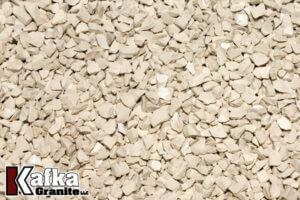 Kafka Granite has teamed with Wisconsin-native businesses Wausau Tile and Kohler Corporation to stick to an impressive recycling initiative. This three-way relationship started when Kohler noted that its landfills were becoming saturated with brand-new toilets and sinks. These fixtures simply didn't meet the high-quality standards of inspectors, so off to the landfill they went. Wausau Tile took interest in the discarded porcelain goldmine and approached Kafka Granite for its impeccable crushing facility. The crushed porcelain was to be used for a new product line that Wausau Tile was going to create, but another world of benefits was also unlocked.
Companies like Wausau Tile can use recycled crushed high-quality porcelain in terrazzo flooring and as a unique component to decorative precast concrete. Its potential has also been explored and makes a great material to use in exposed aggregate architectural panels, pathway materials, and epoxy overlay streetscapes. Whistling Straits, the famous Kohler Company owned golf course, is even using their recycled porcelain as bunker liners using the Better Billy Bunker Method. Recycled porcelain is incredibly durable and absorbs minimal water, which makes it especially ideal for climates where continual freezing and thawing is common.
2. Old Electronics Glass and Mirrors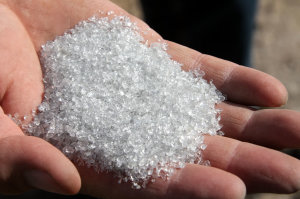 Other materials adding an element of smoke or sparkle to quartz countertops everywhere are electronics glass and discarded two-sided mirrors. Thousands of outdated boxy TVs are tossed to the curb every day, but now the thick smoky glass could see new life by being crushed for other purposes. Two-sided mirrors are also seeing new life as they can add a reflective glimmer to be used in terrazzo flooring, countertops, or anywhere else crushed recycled mirror could add a unique touch. The depth added by these crushed materials gives new life to old, useless glass.
3. Copper Slag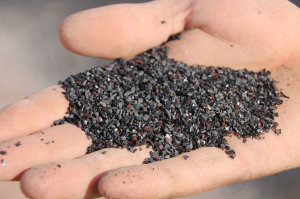 Kafka also recycles some less obvious materials for crushed aggregate, such as copper slag. Recycled copper slag is a unique option that you can use as a recycled aggregate in your next project. Durable, attractive, and recycled, these options could help push you toward a LEED certification. But what exactly is copper slag?
Copper slag is a byproduct of copper smelting. Smelting is the refining process that copper ore goes through. Copper ore is what's mined from the earth, usually from quarries, and is a mix of minerals and rock. In order to extract the usable ore from the mineral and rock blend, the mixed deposits undergo smelting; the process during which the deposits are heated with an agent that triggers a chemical reaction that forces the desired metal end-product out of the ore deposits.
The non-metallic dust, soot and rock are what make up copper slag. Copper slag is friendly to both the health of people, as oppose to alternatives like silica sand that is harmful when inhaled, and the environment. It also has an impressive strength-to-weight ratio, making it a durable, long-lasting option for different projects. Copper slag is primarily black in color with flecks of red and lighter greys, resulting in a pleasant and versatile aesthetic that is mostly used as aggregate in precast concrete to increase its recycled content.
Many prestigious projects have utilized our copper slag recycled materials, such as Chicago's Navy Pier. The designers on the project were looking for a material that could stand up to the test of thousands of visitors and rapidly changing weather, all while being made using recycled content. Our copper slag ended up being exactly what the project called for, and ended up being a large contributing factor that helped the final Navy Pier project received a gold SITES certification.
4. Firebrick
Just like copper slag, firebrick is an eco-friendly material that can earn your project those highly desirable LEED points. But what exactly is firebrick?
Firebrick refers to the dense bricks made to withstand intense heat. These bricks are usually found lining kilns, furnaces, and fireplaces. These bricks are designed to hold even under during rapid temperature changes; such as in locations with mercurial environments. When firebricks reach the end of their application, though, they could end up at a crushing facility like Kafka's. Crushed firebrick blends have a great blend of light tans, greys, browns and reds. Such a varied yet neutral color palette and strong compaction characteristics makes crushed firebrick a great recycled option for pathways.
Crushed Recycled Material Available for LEED Certification
Being environmentally conscious is never a bad thing, especially if it can earn your project LEED certification. Architectural customers as well as the eco-friendly consumers will benefit from using recycled materials in their next projects. Instead of clogging landfills, these materials are being crushed to exact specifications to breathe unique life into many products like terrazzo floors, precast concrete, and even pathways. Kafka Granite has been pushing the environmental envelope for years and has just what you're looking for when it comes to recycled aggregate. To get free samples or find where you can get your hands on recycled porcelain, firebrick and copper slag, contact us today. We're waiting to help find the right aggregate for your project, especially if helps toward LEED certification.