Veneers present endless application potential. From interior fireplaces to exterior facades, natural stone veneers can be used to add depth and drama to any space. Kafka Granite is excited to share our new natural building stone products with our loyal customers. Architects, designers, and contractors can now fulfill all of their natural stone veneer needs with Kafka.
Building Stone
Building stone has been in use for centuries. If you've ever been to Rome, you've most likely seen the veneers in use in the Roman Coliseum. And since that time, humanity has searched for more and more ways to incorporate the breathtaking stones found naturally in nature into their final designs.
Building stone typically ranges in depth from 3-5 inches. With this range of thickness, building stone require foundation footing. This special footing is needed to address the special thickness, weight, and size challenges that come along with building stone. But with the use of proper footing or flooring strength, building stone can be used in almost any setting.
Building stone tends to average between 35-40 square feet per ton, but the final weight of your building stone may vary depending on the type of rock used to create the veneer.
When comparing the price of installing building stone against thin veneers, the former typically win out in terms of product cost, but may surge ahead when it comes to installation costs. When it comes to installation, the sizeable weight and size of building stone needs to be accounted for. Being heavier than its thin counterpart, building stone can be viewed as more difficult to work with as they require more time and effort to install. But a seasoned professional will be able to handle this application with ease. With more weight per sq. ft. of coverage, this also dramatically affects shipping costs compared to thin stone veneer.
Thin Stone Veneers
Thin stone veneers are an attractive option for many, as they reduce freight and installation costs without sacrificing the quality and beauty of the natural stone. A typical thin stone veneer weighs somewhere between 10-15 pounds per SqFt, eliminating the use of the foundation footings necessary when using building stone. This allows the product to be more easily installed in a variety of interior applications, remodels, and tall heights where building stone may be cumbersome.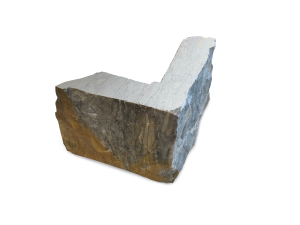 While thin veneers have not been around as long as building stones, this resource is still full of potential. A thin veneer is a great alternative for those looking for a natural stone solution that is both easy to work with and pleasing to the eye. Thin stone veneers are made from the same high-quality material that building stones are, they are simply cut into ¾"-1 ½" depths.
As mentioned previously, thin stone veneers are significantly lighter than building stone meaning that the material can be applied to nearly any surface and doesn't require quite the same level of planning and consideration that building stones do. This modification makes thin veneers a popular choice of both internal and external structures as additional modification do not need to be made to support the weight of these light stones.
And due to their lightweight nature, thin stone veneers are very easy to install. Being easier to handle and transport, every step from cutting to setting tends to be a bit less labor intensive. Additionally, with their lessened weight, a thin stone veneer project can typically be completed faster than a building stone one, leading to savings when it comes to labor.
Thin stone veneers are very similar in weight to artificial stone, meaning that you can get the benefits of cheaper products, such as ease of application and shipping while enjoying the benefits of higher end stone, like a more visually pleasing finished product.
You may be worried that due to their weight and depth, thin stone veneer is weaker than building stone, but both stones are incredibly strong. While building stones are intrinsically stronger, both thin veneers and building stone has the capacity to last a lifetime.
Find the Veneers you Need with Kafka Granite
At Kafka Granite, we're beyond thrilled to share our newest natural thin stone veneer with our loyal customers. Whether you're looking for show-stopping mica-enriched quartzite or traditional granite colors, find your next veneers at Kafka Granite.