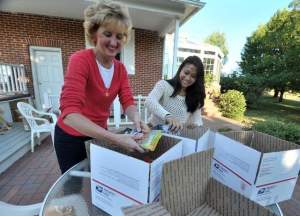 Kafka Granite Helps Send Packages to Afghanistan: It all started when Military Mom, Betty Blume of Marathon, WI, started sending care packages to her son in Afghanistan. After learning more about the harsh conditions that her son was living in, she also thought of all the other troops throughout Afghanistan and decided to spread the love. By organizing an offering during mass at her local parish, Betty raised more than $2,300 in initial donations…and she isn't stopping there.
With Betty being the owner's sister, and her husband, Larry, being Kafka Granite's head mechanic for over 25 years, Kafka Granite was well aware of the Blume's efforts. Kafka Granite has made the commitment to cover the cost of each care package sent to various troops throughout Afghanistan…and we don't plan on stopping either.
As long as Betty is receiving donations for this cause, we will be shipping boxes. We encourage you to join us! Read Betty's full story, and contact us to learn how to make a donation!