To many, landscaping is a work of art. When crafted properly, it can add curb appeal and leave passersby with a  positive first impression. You might spend all of your time primping, pruning, planting and planning your landscaping during every warm summer moment, or you might simply throw some perennials in a flowerbed and call it quits. Whatever type of green thumb you are, Kafka Granite can help you make your garden and landscaping look even better through the perfectly complementary pathway or garden base.
With nearly 60 colors of landscape supply to choose from, picking the right color could be a tough decision. With so many colors available, you're able to make your landscaping a one-of-a-kind design that won't look like the typical yard using big box-store stone. Go bold or go neutral, the choice is up to you, but whichever way you go you can rest assured that Kafka's decomposed granite and landscape supply will be the finishing touch you've needed to reach aesthetic perfection in your yard. With Kafka Granite's easy to use aggregates you don't need to be a design master to create a garden worth a second look.
How to Pick the Color of Your Landscaping Stone
Choosing what color you want your landscaping stone to be isn't much different than coordinating your outfit. By using standard design concepts and tools, you can make the right choice to complement the rest of your landscaping and home.
Using the Color Wheel for Your Landscaping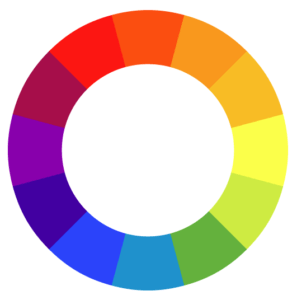 You may recognize the color-selection tool to the right: the standard color wheel. Although simple, learning how to use the color wheel can help you create a landscaping masterpiece just likes the pros. The color wheel is built around the three primary colors: yellow, blue and red. While the complexities of the color wheel can run deep, playing it simple can often make the biggest statement when it comes to your landscaping. When picking colors to feature in your garden, limiting the variety to three colors is best. You'll get a clean, cohesive look if you stick to a few colors instead of all of the colors.
Complementary Colors
A foolproof way to pick a great landscaping stone color is to consider complementary colors. Complementary colors are any two colors opposite each other on the color wheel. For example, if your garden has a lot of purple in it, consider choosing a landscaping stone with more yellow in it. Kafka's Caramel Quartzite would complement gardens roaming with lots of violets or purple phlox.
Triadic Colors
Similar to the idea of complementary colors, triadic colors are any three colors that are spaced equally apart on the color wheel. Instead of primarily sticking to just two colors, following the triadic theme lets you pick three colors that will undoubtedly go together when using the color wheel to help you decide. In this case, picking a decomposed granite to fill your garden or use as a pathway material that is yellow or tan in color will go well with a garden stuffed with flowers that are light blue and maroon.
Analogous Colors
If you'd rather your landscaping stick to one area of the color wheel, choosing analogous colors is a safe bet. Analogous colors are any three colors that are next to each other on the color wheel. Sticking to shades of red or blue, for instance will lead to visual harmony. However, there is one caveat: Try to avoid picking analogous colors where one is a "cool" color (blues, purples) and one is a "warm" color (reds and yellows).
3 Insights to Consider when Picking a Landscaping Stone
Garden Palette
Consider the colors you already have in your garden. As mentioned in the examples above, the colors of the flowers and plants in your garden could help you choose the perfect complementary, triadic or analogous color for your landscaping stone. Kafka's decomposed granite color variety spans browns and tans to violets and greens. If your garden is full of red roses, a pathway made from Wintergreen granite may be exactly what your garden needs.
Home Design
How you design your landscaping may rely heavily on the design of your home. Perhaps you want your landscaping aesthetic to match the era your home was built, or maybe you want your landscaping stone in the garden to complement the color of your home to build a more cohesive look. Taking into consideration the color of your home can help guide your decision when it comes to choosing landscaping material.
Stand Out or Stay Neutral
When it comes to selecting the color of decomposed granite for your garden or pathway, remember staying neutral is always a reliable option. Even if your garden is full of vibrant complementary colors, choosing a neutral color that is more subtle may be the perfect backdrop for beautiful flowers. Also, if your home and garden already add lots of color to your landscaping and curb appeal, maybe it's best not to add another color to the mix through your landscaping stone.
In the End, It's up to You!
Ultimately, landscape design is completely up to you. While Kafka Granite is always here to offer helpful tips for selecting which color aggregate may be best for your garden or pathways, the choice is yours! Complementary, triadic, and analogous colors are good options to consider if you want to play it safe with color selection and make sure your end result is aesthetically pleasing. In the end, though, your landscape's color palette can be as neutral or eclectic as you like. Kafka's decomposed granite color variety is here to help you express yourself and create the best garden yet.