You don't need us to tell you that golf course pathways are essential to the operation of a course. Whether your terrain is crisscrossed with cart paths or features narrow, walking-only trails, that pathway system enables your entire course to function. When golfers aren't walking the paths, maintenance workers and caretakers need those pathways to transport material and equipment, seed the greens, and otherwise monitor and maintain the course.   
At Kafka Granite, we put our years of experience in specialty aggregates to work developing customized solutions to age-old problems like erosion and weathering. Often, that involves an innovative application of one of our products—or the creation of something entirely new. Along those lines, we developed our Wax Polymer Pathway Mix to overcome an issue with pathways washing out at the Erin Hills golf course, site of the 2017 U.S. Open. 
We've put together some helpful information for golf courses looking to install high-quality pathways or overcome existing terrain issues. Here's what you need to know when looking for a new pathway material. 
Where Traditional Golf Course Pathways Fall Short
Standard hardscapes like asphalt or concrete might not be the best choice for your course. These pathway materials fail in a number of ways, from small to seemingly insurmountable. Poor design, coupled with inappropriate pathway material, can leave your hardscape cracking and crumbling or more natural solutions messy and muddy – what's worse? The wrong material can also leave your pathways dusty in summer and mucky in the spring, not at all what your golfers need for a good game. Many path solutions require constant maintenance or expensive repairs – problems Kafka aimed to solve.
When it comes to aesthetics, pathways play a significant role in the look of your course. Concrete may wear fairly well, but it won't blend in with the rest of your course. And that's not even going into the care of these hardscapes—some materials will need significant maintenance as they weather under severe temperatures and erosive effects of rain or high winds.
Characteristics of an Effective Golf Course Pathway Mix
You've likely run into some of the issues mentioned above while working to keep your course pristine. If you're searching for a new type of pathway material to install, you should have a few qualifications in mind for a material that will avoid or minimize these problems. 
Your cart pathways require a pathway mix that is durable but doesn't need extensive maintenance. Golf courses with hilly terrain and steep surfaces will benefit from a versatile pathway material that can resist erosion and withstand foot and cart traffic. And depending on the location of your course, your cart pathways will need to be able to resist the ravages of severe weather patterns and changing temperatures.
In short, your ideal pathway material is:
Durable

Versatile

Aesthetically pleasing

Installed simply

Easily maintained
So, where can you find a material that fits all of these criteria? It might be time to reach out for an expert opinion. A knowledgeable professional at Kafka Granite can narrow down your options and work to identify the right material that will meet the unique needs of your course. When in doubt, refer back to those material qualifications and examine how a potential pathway mix might either fit in with your existing cart paths—or replace them entirely. 
Kafka Granite's Golf Course Pathway Solutions and Bunker Sand
At Kafka Granite, we've developed a pathway material and bunker sand specifically for tricky golf course terrain. Here's a look at two popular products that have made their way onto golf courses across the Midwest. 
Wax Polymer Pathway Mix
Our Wax Polymer Pathway Mix fits the bill for a wide variety of golf course needs, but it's particularly useful for highly erosive pathway systems. Made up of a non-erosive, wax-coated aggregate, this pathway material blends in with the natural beauty of a course while standing up to heavy foot and cart traffic. Its unique composition allows the Wax Polymer Mix to be laid on the steepest of hills and the twistiest of paths. 
Because the material is pre-mixed, installation is simple. The process doesn't even require water! Your team just needs to lay the mix, level the surface, and compact—and you'll be left with an attractive, resilient pathway. This material is also impermeable, waterless, and dustless.
Wax Polymer Bunker Sand
Kafka's Wax Polymer Bunker Sand was originally developed for high maintenance, out of play bunkers at the Whistling Straits course. This material is a great choice for courses looking to cut back on the amount of maintenance required to keep out of play bunkers in good shape. Made to be extremely resistant to erosion, our bunker sand holds up under everything from heavy rain to high winds. And in terms of installation, the product can be easily placed over preexisting bunker sand.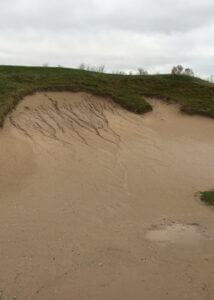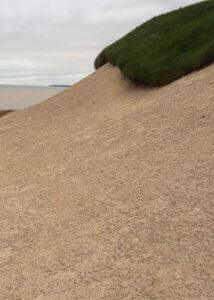 Transform Your Golf Course Today
Whether you're looking for a versatile pathway material for the hilliest section of your course or a reliable bunker sand that can stand up to the forces of nature, Kafka Granite can help. We're dedicated to providing the materials and information you need to make your course truly remarkable. Contact us today to request samples or learn more about how we can help make your pathway project a success.