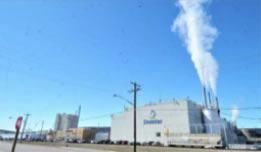 The umbrella of Kafka businesses has grown! We are proud to announce the addition of Kafka Biomass, a new business that will service the We Energies/Domtar Biomass Energy Plant that was recently built in Rothschild, Wisconsin.
In the fall of 2009, Domtar and We Energies announced their plans to build a 50-megawatt biomass-fueled cogeneration facility on the Domtar property. Domtar has utilized biomass in the past to generate steam for their paper-making process, but the new facility allowed Domtar to retire all their old boilers and the increased output of biomass energy nearly eliminates the use of natural gas. In addition, the new facility reduces overall emissions by 30% and has created new jobs for the local community. The new plant is positioning Domtar to be more competitive in the global marketplace.
Kafka Biomass has entered into an agreement with We Energies to provide a remote biomass storage facility for the Domtar plant. Kafka Biomass will scale, inventory, store, and deliver between 40,000 and 80,000 tons of clean wood waste each year. In addition, Kafka Land Clearing will serve as a supplier of clean wood waste, which is generally brush and stumps from land clearing or shavings and sawdust from manufacturing facilities.