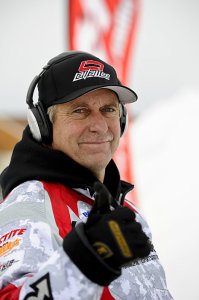 Owner of Kafka Granite serves as co-owner, crew chief, and sponsor to pro snowmobile team: When the snow falls, Glenn Kafka, owner of Kafka Granite, fuels his other passion: snowmobile racing. While Glenn had started becoming involved in snowmobile racing in the 1980s for fun, it has since evolved into another business venture. Glenn Kafka spent a decade serving as crew chief on the premiere grass drag racing team in the 90s, and another ten years helping his son, Chris Kafka, rise through the ranks of snocross racing. Today, he serves as co-owner and crew chief to Team LaVallee, a professional snocross and freestyle snowmobile team. Glenn's business partner, Levi LaVallee, is a Pro National Snocross Champion, a 4-time Winter X-Games Gold Medalist, the first person to attempt a double backflip on a snowmobile, and the world distance jump holder at 412′ feet.
Now, Glenn Kafka and the team are preparing for their fourth season together. Levi LaVallee and Kyle Pallin will be racing in the professional ranks, while Jake Scott competes in the Pro Lites division. The team will follow the International Series of Champions (ISOC) Circuit to nine US cities throughout the 2012-13 season, as well as compete in the 2013 Winter X-Games in Aspen, Colorado. The first race will be held November 23-25 at Spirit Mountain in Duluth, Minnesota. You can follow Team LaVallee on Facebook and Twitter, or see Glenn and the team in action at a race near you!
Kafka Granite sponsors Team LaVallee, along with Mystik Lubricants, Loctite, Polaris, Parts Unlimited, Fox Shox, Earth, Inc., Woody's, Kafka Conveyors, and Stratford Sign Company.
In addition, Kafka Granite, Kafka Conveyors, River Valley Bank, and Stratford Sign Company will be sponsoring Chris Kafka, Glenn's son, as he comes out of retirement to compete in the Midwest ISOC races as an independent Pro Lites rider.