The space outside your home often takes up more square footage than the area inside your home, and it's what most people first notice. No matter if you are in charge of maintaining an office building, a college campus or even your own home sweet home, making sure its landscape is well-designed can make a great and lasting first impression.
Creating a cohesive, unique and aesthetically pleasing landscape through a variety of flowers, plants, pathways and strategically placed water features or boulders could be exactly what you need to up your curb appeal. You can do-it-yourself, but we promise seeking out the help of a professional is well worth the investment. Here are four reasons why: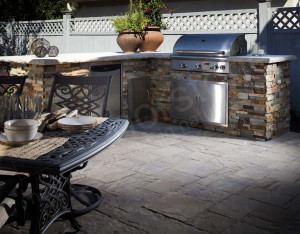 1. Create the Best Outdoor Living Space
When it comes to your home, living doesn't have to be restricted to indoor areas. In 2016, one of the most desired features for a home to have includes prime outdoor gathering areas. Creating a functional living space isn't simply adding a patio set and a few potted plants, though. To truly add value and create an ambient space, you may need an expert's touch. Landscape architects or designers can masterfully curate the right materials, features, plants and furniture to make your outdoor living space not only incredibly functional, but also seamlessly integrated into the rest of your property as a whole.
Perhaps you want a great place to warm up by a fire in colder Midwestern weather. Creating a designated area to sit back and roast a marshmallow or have great conversations with family can be done through a thoughtfully integrated decomposed granite patio surrounding a stone or metal fire pit. Forget the chairs—dot the fire pit surrounding with natural granite boulders to create an outdoor living space that truly integrates with its natural surroundings. By crafting a hub for family and friends to gather outside will add immense appeal and usefulness to all parts of your home.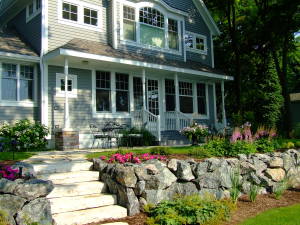 2. Boost Your Home's Curb Appeal
Most people feel better about going into a home that looks inviting on the outside instead of one that looks rundown or unkempt—this is where professional landscaping proves its value. If you are looking to sell your home, exact return on investment numbers vary as some people report a 20 percent increase in home value up to a 150 percent increase in value. It depends how much you can spend on your landscaping.
Kafka Granite has the landscape materials to add the perfect aesthetic to your space. From decomposed granite in nearly 60 colors to naturally round multi-colored boulders, we can supply the unique materials needed to put your yard ahead of the rest. Selecting the right landscape stone for your garden could be just the right feature to complement your home. With cleverly designed landscaping, including the right materials, textures and colors, your home could be the talk of the block.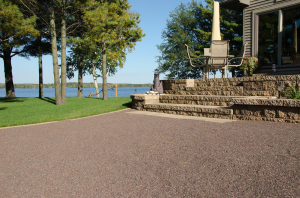 3. Help the Environment
When done properly, a great landscape design can also contribute to the environment. If you're an eco-conscious person, look into a landscape architect who has specific know-how in how to make your landscape not only look great, but function better for the environment. Natural cobble retaining walls could help stave off erosion, which could stop urban soil from getting into nearby waterways.
Creating shaded areas also contributes to diminishing the urban heat island effect by helping lower temperatures in and around cities. And by considering how permeable your groundcover is, you could contribute to groundwater recharge and stormwater control. If you design a patio, driveway or walkway made from materials that offer little to no permeability, you could be harming groundwater recharge and stormwater control as the water has no opportunity to absorb into the earth—instead it runs into storm drains, which in large volumes causes flooding and pollution. If you choose to landscape with a permeable material, such as standard decomposed granite aggregate or landscaping stone, you'll help rainwater or melting snow get right back to where it belongs; in the soil.
If you're unsure how to create an outdoor space that functions well and looks beautiful, get in touch with your local landscape architect or nursery to start searching for eco-friendly solutions like these.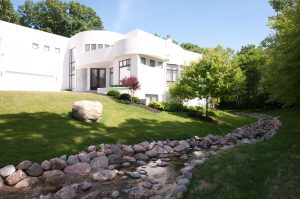 4. Add Peace in a Hectic City
Lastly, one of the more important aspects to having a landscaped yard, you could add much-needed tranquility. Especially if you live in or around a buzzing metro, creating a livable and peaceful landscape in your own backyard, office courtyard, etc., could be exactly what you need to clear your head. Studies have shown that exposure to nature can improve mood and memory in city-dwellers. Too much stimulation, the standard for your busy city, can weaken some of the mind's functions.
If you take the time and consideration to create quiet spaces outdoors, in a natural environment, you can help make your yard more useful than ever. Block out the noise of the city and enjoy the outdoors!
Kafka Granite Can Help Create Your Great Landscape
If ever you've doubted the power of landscape architecture and design, these four reasons should have you considering its investment, environmental and aesthetic appeal. Kafka Granite supplies the cobbles, permeable pathway mix, landscaping stone, and thin-stone veneer you need to create an inviting and functional landscape that everyone can enjoy. Get in touch today to learn about where your nearest Kafka Granite dealer is, or, if you're interested in becoming a dealer yourself, simply ask us about our dealer program! Why settle for a few potted plants and a lawn gnome when you could be enjoying beautiful crushed stone patios, winding pathways and natural retaining walls in a yard the neighbors will stop and awe? Make use of your valuable outdoor space now.